Veggie, fruit exports fetch some US$1 billion in Jan-March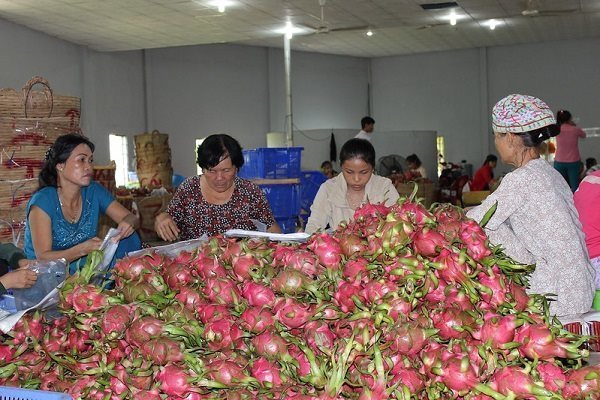 Farmers process dragon fruit. Vietnam exported vegetables and fruits worth over US$900 million in the first quarter of 2021, up 6.1% year-on-year – PHOTO: SGT
HCMC – Vietnam exported vegetables and fruits worth over US$900 million in the first quarter of 2021, up 6.1% year-on-year, according to data from the Import-Export Department under the Ministry of Industry and Trade.
In March, revenue from vegetable and fruit exports amounted to US$380 million, up 6.3% year-on-year, contributing to the rise in veggie and fruit export earnings in the three-month period.
The Covid-19 outbreaks were brought under control, smoothing the export operations, resulting in the growth in fruit and vegetable exports, according to the Import-Export Department.
China remained Vietnam's largest fruit and vegetable buyer. In the first two months of the year, the country shipped fruits and vegetables worth US$350 million to China, increasing by 17.5% year-on-year and representing 62.5% of the country's total fruit and veggie export value in the two months.
The United States, Thailand, Japan and South Korea were among Vietnam's major fruit and vegetable importers.
Vietnam saw its shipments of fruits and vegetables during the January-March period to Taiwan, Malaysia and Australia soar by 43%, 32.5% and 30.6%, year-on-year, respectively.
The validity of some free trade pacts such as the European Union-Vietnam Free Trade Agreement, the Comprehensive and Progressive Agreement for Trans-Pacific Partnership and the Regional Comprehensive Economic Partnership has opened a wide door for local exporters.
The United Kingdom-Vietnam Free Trade Agreement will take effect on May 1, which is expected to contribute to ramping up Vietnam's exports of farm produce.
Under the agreement, over 94% of the total of 547 tariff lines on vegetables and fruits and processed products from vegetables and fruits will be scrapped.
Vietnam has one million hectares of fruit plants, with an output of over 12.6 million tons. The country's fruits have reached numerous markets.
Until date, the Plant Protection Department under the Ministry of Agriculture and Rural Development has granted 998 codes to areas that grow fruits for export to the United States, Australia, South Korea, Thailand, Japan and the European Union.
TAG: