Transport Ministry's proposal to acquire eight toll roads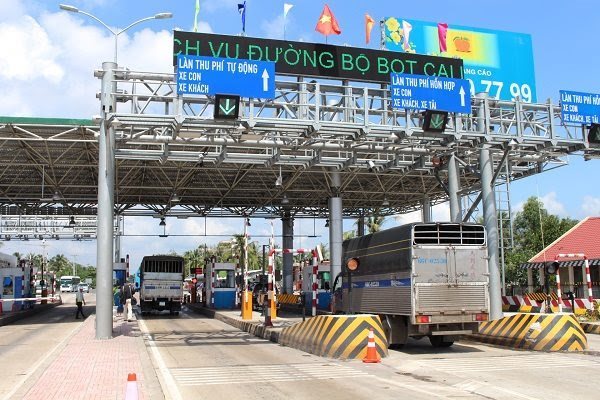 Trucks pass through the Cai Lay Tollgate in the Mekong Delta province of Tien Giang. The National Assembly's Economic Committee has rejected the Ministry of Transport's proposal to use State money to acquire eight controversial BOT road tollgates – PHOTO: TRUNG CHANH
HCMC - The National Assembly's (NA) Economic Committee has rejected the Ministry of Transport's proposal to use State cash to acquire eight controversial toll roads built or upgraded under the build-operate-transfer (BOT) format, saying it is unreasonable and dubious and may lead to lawsuits.
The committee has reported the deployment of policies on the investment and operation of traffic infrastructure projects developed under the BOT format, news site VnExpress reported.
The eight BOT roads are Bim Son on a bypass in Thanh Hoa Province of the National Highway 1A project, T2 of a project to upgrade National Highway 91 in Can Tho City, Ninh Xuan of the National Highway 26 upgrade project, Cai Lay of a bypass project in Cai Lay Town, tollgates on National Highway 3 of a project to build the Thai Nguyen-Cho Moi road and upgrade a National Highway 3 section, a section of the Ho Chi Minh Road in Daklak Province, the La Son-Tuy Loan Expressway connecting Thua Thien-Hue Province and Danang City and a section from the La Uyen to the Tan De bridges of National Highway 10 in Thai Binh.
As residents had refused to pay toll fees, causing difficulties for investors, the Ministry of Transport proposed using the State budget for the public investment plan in the 2021-2025 period to make payments to investors, following which the tollgates were dismantled.
However, according to the NA's Economic Committee, it is unreasonable to use State funding to acquire these BOT projects due to the lack of a legal and practical foundation.
Besides these eight projects, the location of the tollgates of some other projects was also unreasonable, but local residents have stopped opposing these projects as they have been offered fee reductions or exemptions.
Therefore, if the State acquires the eight projects listed above, it may affect other projects.
The acquisition will also put pressure on the State budget and go against the State's guidelines to mobilize funds from the private sector for infrastructure development.
Last year, 42 of 54 BOT projects reported lower revenues than expected. Therefore, the NA's Economic Committee proposed the NA Standing Committee review the responsibility of the relevant individuals and agencies and ask the competent agencies to remove obstacles facing tollgates and localities to ensure security, social order and the safety of investors' assets.
TAG: