Bank stocks perform poorly, VN-Index ends winning streak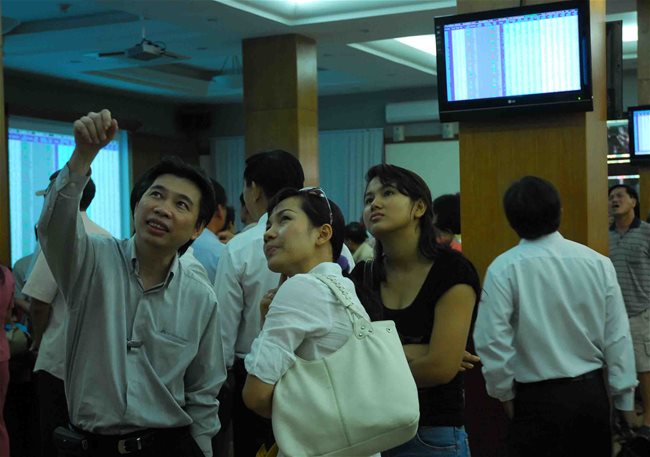 Investors watch stock prices at a securities company in HCMC. The benchmark VN-Index of the Hochiminh Stock Exchange lost 0.6% to close at 1,234.89 points on Thursday, ending its winning streak of eight consecutive sessions – PHOTO: TRAN LINH
HCMC – Many bank stocks lost ground and dragged the VN-Index of the Hochiminh Stock Exchange down today, April 8, ending the benchmark index's winning streak of eight consecutive sessions.
A system error that occurred at around 11 a.m. also affected the investors' sentiment on the southern market. The VN-Index lost 0.6%, or 7.49 points, from the earlier session to close the day at 1,234.89 points.
There were 664.5 million shares worth more than VND14.5 trillion changing hands, falling 9% in volume and 12% in value compared with the previous session. Some 30.9 million shares worth over VND1.3 trillion were traded in block deals. Losing stocks outnumbered winners by 233 to 167.
Bank stocks were the main draggers, with MBB, VCB and VIC dropping 1.8-1.9% to VND31,200, VND100,000 and VND125,400, respectively. Both BID and BVH fell 1.6% to VND44,800 and VND62,400, respectively, while TCH declined 1.5% to VND26,000. STB and TCB fell slightly.
Only a few bank stocks gained ground, but at a modest pace. HDB rose 1.1% to VND28,050 while VPB and TPB inched up 0.4% and 0.3%, respectively.
Other large-cap stocks such as securities corporation SSI, mobile phone retailer MWG, housing firm VHM and consumer goods producer MSN lost 0.4-0.9%. Steelmaker HPG, sugar producer SBT and dairy producer VNM lost 0.2% each.
Lender STB was the most actively traded stocks among heavyweights with 26.66 million shares changing hands, followed by lender MBB with 22.3 million shares and electricity firm POW with 13.3 million shares.
In the group of small and medium stocks, DLG, CKG, TDG, PXT and DLG shot up to the ceiling prices. DXG, DIG, ASM and GEX soared more than 4%.
In contrast, VOS, JVC, DAH and RIC dropped to the floor prices. HQC, LDG, AMD, HAI, HBC, SJF, TNI and PVD dipped into the red.
Two FLC members namely construction firm ROS and property developer FLC reversed course to close the day up 5.2% to VND5,290 and 2.6% to VND11,800, respectively.
ROS led the southern bourse in terms of liquidity with 38.3 million shares changing hands.
On the Hanoi Stock Exchange, the HNX-Index went up 0.31%, or 0.91 point, against the previous session to close at 293.75 points, with 61 gaining stocks and 69 decliners. There were nearly 178.3 million shares worth more than VND2.9 trillion changing hands.
The biggest gainers were securities corporation VND, bank stock NVB and investment and trading company TNG, which surged 4.4% to VND35,500, 3.5% to VND17,800 and 5.5% to VND24,900, respectively.
Some other major contributors included lender SHB, securities company SHS and investment and industrial development firm IDC, which rose 0.8-1.8%.
SHB led the northern bourse in terms of liquidity with more than 18 million shares changing hands.
TAG: