Fado becomes first ecommerce platform in Vietnam to stop trading H&M products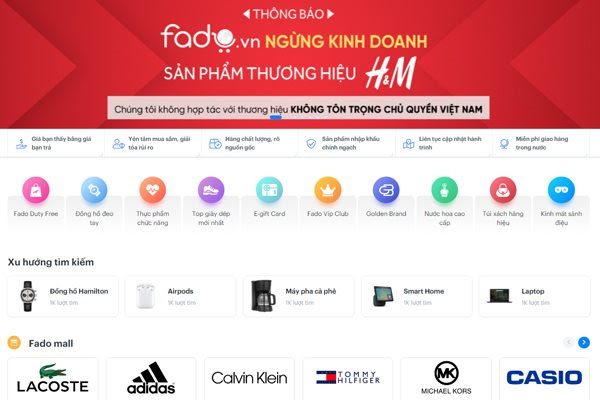 A screenshot of the Fado ecommerce website announcing it has stopped trading H&M products.
HCMC – Ecommerce platform Fado.vn has stopped trading all H&M products starting today, April 7, for an indefinite period as the Swedish fashion retailer featured a map with the illegal nine-dash line on its website, said Dat Pham, CEO of Fado Vietnam JSC, making it the first ecommerce platform in the country to suspend the sale of H&M products.
"The Fado team includes Vietnamese citizens; thus, we refuse to cooperate with any brand that does not respect the sovereignty of Vietnam," Dat stressed in a press release.
Three days ago, a Facebook group was formed to call for a boycott of H&M and the hashtag "TaychayHM" (BoycottHM) was the top trending topic on Twitter in Vietnam on April 3. Vietnamese public opinion asserted that Vietnam's sovereign rights over the Hoang Sa (Paracel) and Truong Sa (Spratly) archipelagos are in line with international law and H&M showed no respect for and harmed the sovereignty of Vietnam for the sake of its own commercial benefit.
In Vietnam, H&M opened its first store in HCMC in September 2017 and the second one in Hanoi two months later. As of now, the Swedish shoes and clothing brand operates 12 stores in Vietnam, with five stores in Hanoi, four in HCMC and three others in Can Tho, Danang and Ha Long.
As for Fado, which was established in 2014, it remains among the top five ecommerce platforms in Vietnam, according to data of the Iprice Group. It functions as a cross-border ecommerce platform, enabling local traders and enterprises to connect with their overseas business partners through the platform more easily.
TAG: