VN-Index expands although numerous stocks dip into the red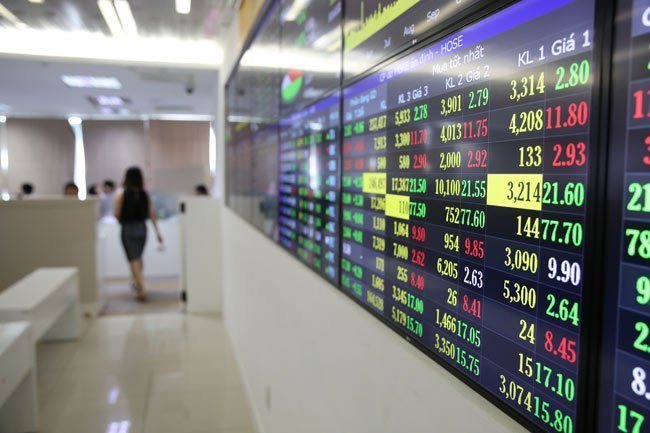 An electronic board shows stock prices at a securities firm in HCMC in this file photo. The benchmark VN-Index of the Hochiminh Stock Exchange rose 0.32% to close at 1,239.96 points on Tuesday – PHOTO: THANH HOA
HCMC – Although the strong selling pressure sent many stocks on the local market into the red, the VN-Index of the Hochiminh Stock Exchange recorded the seventh straight winning session today, April 6.
The benchmark index rose 0.32%, or 3.91 points, to close the day at 1,239.96 points although losing stocks outnumbered winners by 248 to 190. The reason was that losing stocks dropped slightly while winning ones increased sharply.
There were 694 million shares worth nearly VND16.9 trillion changing hands, increasing insignificantly in both volume and value compared with the previous session. More than 37.5 million shares worth some VND1.57 trillion were traded in block deals.
In the VN30 basket, 14 stocks gained ground while 13 others slipped. Financial service provider TCH was the biggest gainer, soaring 5.5% to VND25,900, followed by lender MBB, which rose 3.3% to VND31,400 and lender CTG, up 2.4% to VND43,000.
Other contributors were VIC, TCB, BVH, NVL and VRE, which grew between 1.4% and 2.2%. HPG, GAS, BID, VJC and KDH inched up less than 1%.
Bank stock STB reported the sharpest drop, down 1.7% to VND22,750. Some other major drags on the market included electricity firm POW and consumer goods producer MSN, which dropped 1.5% to VND13,450 and 1.2% to VND91,900, respectively. FPT, PDR, MWG, HDB, TPB and SBT fell 0.2-0.9%.
In the group of speculative stocks, AMD, HAI, TNI, SJF, TSC, DLG, VOS, JVC, HCD and TDG shot up to the ceiling prices. HQC, GEX and TTF were also good performers, surging 5.5%, 4.9% and 3.1%, respectively.
In contrast, ITA, LPB, HHS, HNG, VIX, HSG, SCR, HBC, DXG, HCM, NKG, OCB and PVT dipped into the red.
STB led the southern bourse in terms of liquidity with 42.3 million shares changing hands.
On the Hanoi Stock Exchange, the HNX-Index went up 0.15%, or 0.44 point, to close at 291.68 points, with 56 winning stocks and 72 losing ones. There were more than 189.5 million shares worth some VND3.49 trillion changing hands.
Lender SHB reversed course to end higher, closing the day up 2.1% to VND24,800. SHB was also the most actively traded stock on the northern bourse with nearly 25 million shares traded.
Petroleum stock PVS and property enterprise CEO, which surged 3.9% to VND24,300 and 5.5% to VND13,500, respectively, were among the main contributors.
Some other large-cap stocks such as SHS, VCS, TNG, MBS and NVB declined less than 2%.
TAG: