Bluechips help VN-Index maintain growth momentum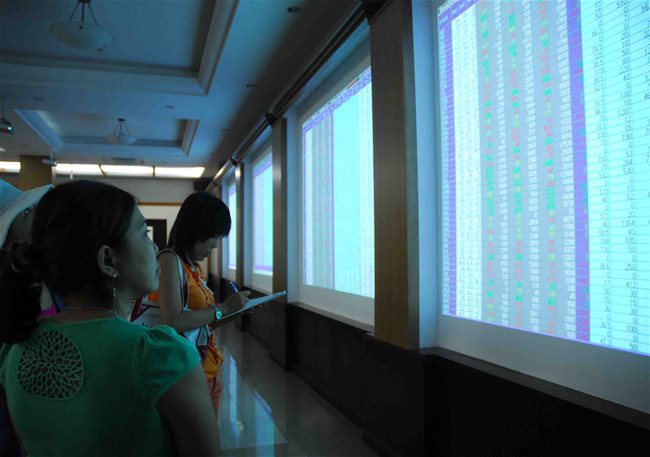 Investors watch stock prices on electronic boards. The VN-Index expanded 0.95% on Monday – PHOTO: TRAN LINH
HCMC - The strong gain of bluechips, especially bank stocks, helped the benchmark VN-Index of the Hochiminh Stock Exchange expand for the sixth straight session today, April 5.
The VN-Index added 0.95%, or 11.6 points, to close the day at 1,236.05 points, with winning stocks outnumbering losers by 226 to 201.
There were 693 million shares worth over VND16.8 trillion changing hands, increasing 4.7% in volume and 2.6% in value compared with the previous session. Some 57.7 million shares worth more than VND1.8 trillion were traded in block deals.
Bank stocks were the best performers on the southern market. EIB shot up to the ceiling price at VND21,800, while VCB rose 4.3% to VND102,000 and VIB extended 5.1% to VND53,300. STB and MBB increased 2.4% to VND23,150 and 2.7% to VND30,400, respectively. CTG, BID and HDB grew approximately 1.5%.
Real estate stocks were also the major contributors, with PDR being the biggest gainer, soaring 5.3% to VND68,000, followed by NVL, which surged 4.3% to VND85,500. VRE rose 1.9% to VND34,500, while both VHM and VIC increased over 1%.
A number of securities stocks gained ground such as SSI, HCM and CTS, which rose 2% to VND35,000, 1.8% to VND33,300 and 1.45% to VND17,550, respectively.
In the group of speculative stocks, HQC, AMD, TNI, SJF, QBS, DLG and TSC shot up to the ceiling prices.
Lender STB led the southern bourse in terms of liquidity with 46.16 million shares changing hands. Lender MBB came second with 26.1 million shares traded, followed by real estate corporation HQC with 26 million shares traded.
In contrast to the VN-Index, the HNX-Index of the Hanoi Stock Exchange lost 1.24%, or 3.65 points, to close at 291.24 points although winning stocks outnumbered losing ones by 121 to 97. There were nearly 149 million shares worth some VND2.4 trillion changing hands.
After five consecutive winning sessions, the strong selling pressure made lender SHB drop to the floor price at VND24,300. SHB was the most actively traded stock on the northern bourse, seeing more than 14.66 million shares change hands.
Some other large-cap stocks such as petroleum stocks PVS and PVB, stone processor VCS and forestry corporation VIF also dipped in the red.
TAG: