Four rubber cushions at HCMC's first metro line found displaced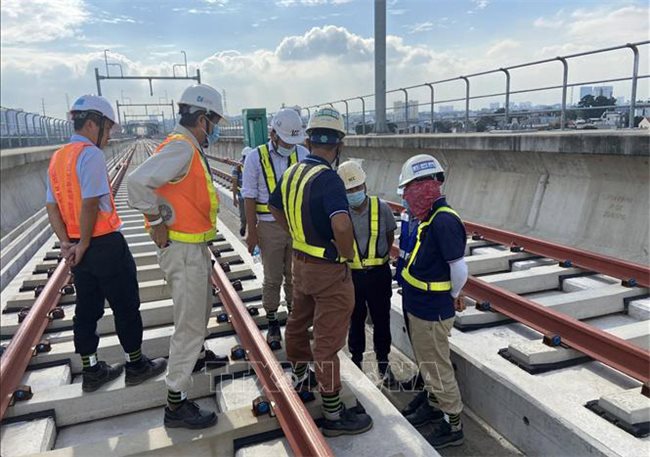 An inspection team checks HCMC's metro line No. 1. Four more rubber cushions of the metro line's package CP2 have been found deviating from their positions – PHOTO: VNA
HCMC - The HCMC Management Authority for Urban Railways (MAUR) has found that four rubber cushions belonging to package CP2 of the city's first metro line have deviated from their positions.
The cushions are used to connect girders with pillars and act as a buffer. Two of them were made by South Korea's Megaba Group and two others were produced by Japan's Kawakin Holdings Group. It is still unclear how they deviated 7-11 millimeters from their positions.
Sumitomo - Cienco 6 is the engineering, procurement and construction (EPC) contractor of package CP2, while the subcontractor and designer are FVR and Systra, respectively.
The package comprises 1,184 rubber cushions provided by Tan Co Company. They were produced by either Megaba or Kawakin.
"The cause of these faults needs to be urgently investigated, thus minimizing damages for the entire upper structure," a transport expert told Tuoi Tre Online.
Up to now, package CP2 of the city's first metro line is 92% complete. This is not the first time such faults have been detected in the process of implementing the package. On October 30 last year, MAUR discovered that a rubber cushion used for a girder of a viaduct which was constructed in 2016 had fallen off. In January 2021, MAUR found one more rubber cushion of another viaduct displaced.
According to MAUR, Sumitomo - Cienco 6 as the EPC contractor has been late in identifying the cause of these incidents, which have affected the progress of the entire project.
TAG: