Vietnam set to become second largest economy in Southeast Asia
Vietnam aims to become the second largest economy in Southeast Asia by 2030 thanks to its sound economic performance, Prime Minister Nguyen Xuan Phuc has said.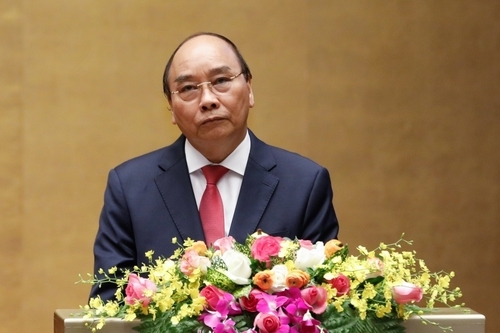 Prime Minister Nguyen Xuan Phuc


Phuc unveiled the target while presenting the 2021-2030 national socio-economic development strategy and the 2021-2025 development plan at the national conference to popularize the recently-concluded National Party Congress's resolution in Hanoi on March 28.
He happily said that Vietnam is one of the 40 largest economies in the world and the fourth largest in Southeast Asia, with GDP per capita reaching more than US$3,500 last year.
Vietnam is one of the 10 economies with the highest growth in the world and is one of the 16 most successful emerging economies globally, noted the PM.
According to the PM, the nation has high economic openness with total trade value doubling the national GDP. It has established official relations with 189 out of 193 countries and territories across the globe, while developing economic, trade and investment relations with over 224 countries and territories.
Major global financial institutions such as the International Monetary Fund, the World Bank, and world renowned rating organizations have all appreciated Vietnam's achievements and placed trust in the strong development of the Southeast Asian economy.
The PM also pointed out a number of potential risks and challenges the national economy has been confronted with during the past years, saying they should be addressed in the coming years.
In his opinion, the openness of the national economy is rather big, the competitiveness and resilience of the economy remain limited, while Vietnam is badly affected by climate change, natural disasters and epidemics.
The government chief raised the question about if the Vietnamese economy will be ranked second in Southeast Asia on the back of its sound performance, and said "the target is likely to be within reach if we strengthen our resolve."
He said he believes Vietnam is able to secure high economic growth, but warned "unless measures are adopted to achieve high growth, we will lag behind."
"We strive to achieve a growth rate of 6-6.5% this year and maybe 7% next year, but in the near future, the annual GDP growth rate must be 8-9% on average. These figures require us to make a greater effort and stronger determination."
To this end, the PM stressed the need to encourage aspirations for national development in every citizen, considering people to be an important factor behind every success.
In addition, he also underlined the importance of mobilizing all resources for rapid and sustainable development on the basis of science, technology, innovation and digital transformation.
Vietnam aims to become a developing country with a modern industry and GDP per capita of US$7,500 by 2030 and become a developed economy with GDP per capita of US$18,000 by 2045.
VOV
TAG: