Main index bounces back slightly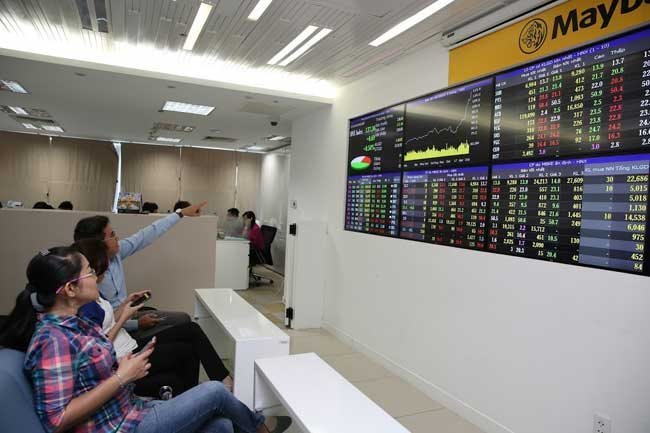 Investors watch stock information at Maybank Kim Eng Securities Company. Trading in the local market made a little headway today, March 25 - PHOTO: THANH HOA
HCMC – Trading in the local stock market made a little headway today, March 25, with the benchmark VN-Index of the Hochiminh Stock Exchange rising slightly after hovering around its reference price due to increased selling pressure and then a system error frequently facing the southern bourse.
With 205 stocks advancing and 245 others dipping, the main index gained 1.29 points, or 0.11% against the previous session at 1,163.1. Over 690 million shares worth more than VND17.4 trillion were traded on the southern bourse, dropping 8% in volume and 1% in value over the session earlier. Of the total value, shares transacted in block deals contributed nearly VND4 trillion.
Most bluechips narrowed down their morning gains. Realty firm VIC inched up 2.3% and recorded over 4.32 million shares traded, making it the biggest winner in the VN30 basket.
Besides this, other good-performing bluechips such as lenders STB and CTG, consumer goods producer MSN, and jewelry maker PNJ added 1-1.9%, while VJC, TCB, GAS, BID, VCB, and HDB edged up slightly 0.1-0.4%.
Meanwhile, sugar producer SBT, lender VPB, brokerage SSI, retailer VRE, steelmaker HPG, and tech giant FPT ended on a downbeat note.
In the group of speculative stocks, property developer FLC again stole the limelight as it surged 6.7% to its ceiling price at VND10,450, with a matching volume exceeding 55.4 million shares.
Other speculative stocks such as HQC, LDG, VIX, TTF, IJC, HSG, HAI, TDP closed in positive territory. Of them, HQC, LDG, VIX saw 12-14 million shares transacted.
On the northern bourse, trading was gloomy as the HNX-Index shed 1.5 points, or 0.56% versus the previous session to close at 267.19, with 44 advancers and 81 decliners.
TAG: