Vietnam sells 50,000 tons of rice to Bangladesh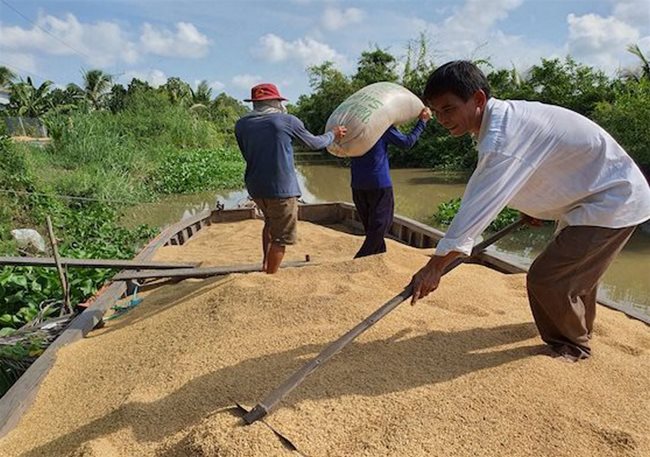 Farmers transport newly-harvested rice. The Vietnam Southern Food Corporation has signed a contract to sell 50,000 tons of rice to Bangladesh at US$605 per ton - PHOTO: TRUNG CHANH
CAN THO – On the sidelines of a conference to review the 2020-2021 winter-spring season and discuss production plans for the 2021 summer-autumn and autumn-winter seasons held in Can Tho City on March 24, it was announced that the Vietnam Southern Food Corporation has signed a contract to sell 50,000 tons of rice to Bangladesh at a cost, insurance and freight price of US$605 per ton.
The free-on-board price was over US$520 per ton.
The volume will be shared for some members of the Vietnam Food Administration and the rice will be shipped to Bangladesh next month.
The Vietnam News Agency had earlier cited AHM Mustafa Kamal, Finance Minister of Bangladesh, as saying that the country had approved a proposal to import 350,000 tons of rice from India, Thailand and Vietnam.
Pham Thai Binh, director of Trung An Hi-Tech Farming JSC in Can Tho City, said the rice export in early 2021 was relatively convenient. Since early this year, Vietnam has secured large orders at high prices.
Trung An has signed contracts to sell 5% of broken rice at US$540-560 per ton, Binh added.
The Philippines, Vietnam's largest rice importer, expects Vietnam to reduce its rice prices. However, Vietnam cannot sell rice at less than US$530 per ton, Binh noted.
TAG: