Stock market extends losses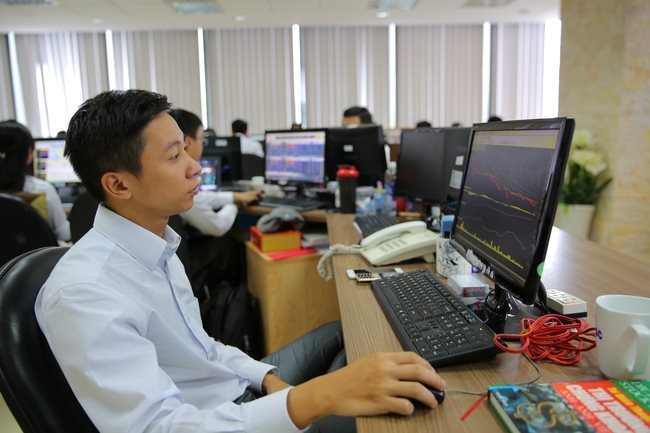 An employee of HCMC Securities Corporation looks at stock quotations on a desktop computer. The local stock market ended lower today, March 24, extending losses of the previous session - PHOTO: THANH HOA
HCMC – The local stock market ended lower today, March 24, extending losses of the previous session, with the benchmark VN-Index of the Hochiminh Stock Exchange shedding nearly 22 points despite active participation of bottom fishers.
Even though a system error has frequently hindered trade on the southern bourse in the afternoon and today was no exception, there were some bright spots on the bourse this session. Especially, property developer FLC and lender SSB stole the limelight. SSB saw over six million shares changing hands while FLC soared 6.6% with 42.6 million shares traded.
Also, real estate firm VIC, the biggest stock by market capitalization on the HCMC market, reversed course to end higher by 1.31%. However, the main index still failed to bounce back as many other largecaps were deep in the red.
Closing, the benchmark index edged down 21.64 points or 1.83% over the session earlier to 1,161.81, with 75 winners and up to 408 losers. Turnover on the southern bourse improved 9.8% in volume and 14.5% in value against Tuesday at over 750 million shares and more than VND17.6 trillion. Shares traded in blocks deal accounted for some VND2.8 trillion.
Among bluechips, apart from VIC, lender MSB and construction firm VCG gained 2.33% and 0.7%, respectively, while jewelry maker PNJ and pharmaceutical firm DHG reversed course to end lower.
Further, State-owned electricity firm POW, steelmaker HPG, and lender STB were the most actively traded stocks in this group with matching volume of 23-24 million shares.
Aside from FLC, other small and medium stocks such as trade corporation HAP and furniture maker TTF saw 6-10 million shares transacted.
On the northern bourse, the HNX-Index dropped 3.64 points or 1.34% compared to the previous session at 268.69, with 67 stocks rising and 147 others falling.
TAG: