SK Startup Fellowship kicks off its 2nd batch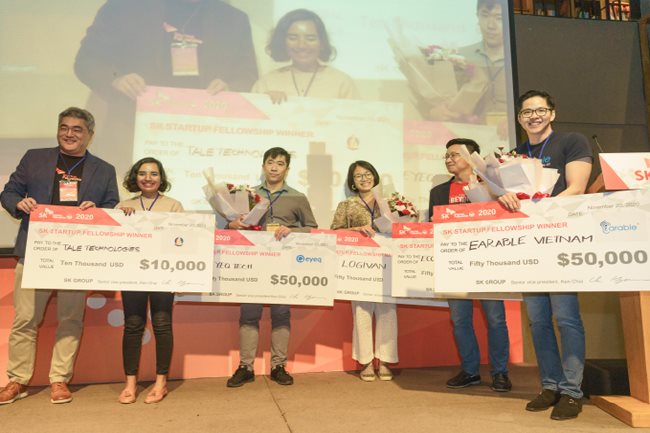 The SK Startup Fellowship 2020 winners pose for a group photo. SK Group has kicked off the second batch of the SK Startup Fellowship Program in 2021 – PHOTO: COURTESY OF ORGANIZER
HCMC - SK Group, the third largest conglomerate in South Korea, has kicked off the second batch of the SK Startup Fellowship Program (SKSF) in 2021, despite the impact of the Covid-19 pandemic that has caused tremendous challenges in international trade and business development all over the world, demonstrating its strong commitment toward its investment and social responsibility in Vietnam.
SKSF's mission is to discover high potential early-stage startups and provide them with grants and in-kind support. At the same time, the program strives to build a long-lasting relationship with all the startups' alumni.
For the second batch, SKSF aims to source and select 12 finalist startups who have raised less than US$3 million in total funding. The 12 finalists would all receive grants (non-equity funds) from SKSF, with the top four receiving US$50,000 each and the others receiving US$16,000 each.
Aside from grants, all finalists would receive support from SKSF and its partners throughout the six months of the program, including training on financial management from KPMG, training on Investor Pitching from BSSC, one-on-one mentoring, workshops with Vietnamese businesses and networking activities with the startup ecosystem.
The finalists would also have the chance to connect with the SK Group and its subsidiaries in over 40 countries to explore opportunities for further business development. SK Group has future plans to invite SKSF finalists and alumni for a tour of the SK Group's facilities in South Korea and a meeting with top management, showcasing the Group's goodwill in building strong relationships with Vietnamese startups.
This year's edition also welcomes a local Program Partner - Business Startup Support Center (BSSC), to bring more benefits to the startups, particularly in connecting with the local business ecosystem. The 12 finalists would get exclusive offers from BSSC to participate in Startup Day 2021 - one of the largest and most intensive startup exhibition events in Southeast Asia.
The program's second batch is now open to Vietnamese startups across all fields, with priority given to startups applying technology to solve social problems. Vietnamese startups in the early or post seed stage with products and revenue are welcomed to apply for the program. Hi-tech startups holding a service/product related patent(s) will be eligible to participate even without the revenue requirements.
Interested startups can find the application form at https://skstartupfellowship.com/apply and submit it no later than March 24, 2021.
TAG: