Bank stocks help VN-Index inch up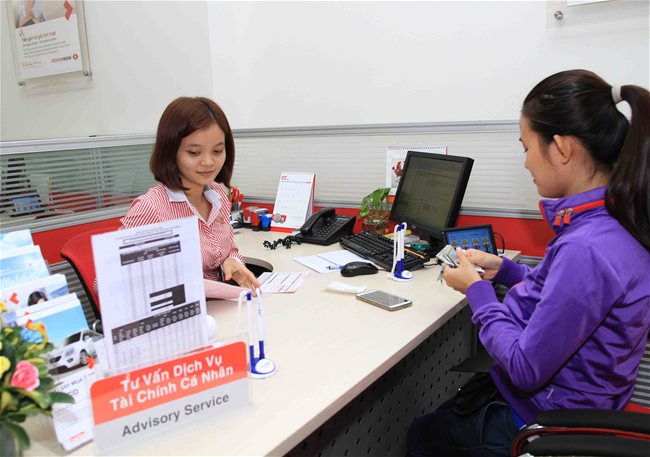 A bank teller at Techcombank offers support to a client. Bank stocks contributed significantly to VN-Index's increase of 0.22% on Tuesday – PHOTO: THANH HOA
HCMC – Bank stocks were the main driver of the local stock market today, February 23, helping the VN-Index of the Hochiminh Stock Exchange add 0.22%, or 2.6 points, to close the day at 1,177.64 points.
The southern market saw winning stocks outnumber losers by 233 to 201. There were 598.2 million shares worth over VND15.4 trillion changing hands, falling 5% in volume but increasing 1% in value against the session earlier.
Bank stocks were outstanding performers, with the biggest gainers being TCB and MBB, which soared 3.1% to VND39,800 and 2.6% to VND27,400, respectively. MBB and TCB were also the most actively traded stocks on the southern bourse with 31.58 million and 26.38 million shares traded, respectively. Some other bank stocks such as HDB, BID and STB inched up approximately 1%.
Major contributors also included securities stock SSI, up 2.3% to VND33,600, and aviation stock VJC, up 1.8% to VND134,000.
In contrast, brewery SAB and consumer goods firm MSN were among the main draggers, dropping 2.1% to VND186,000 and 2% to VND92,700, respectively. Besides, jewelry company PNJ was down 1.9% to VND83,500 and tech firm FPT lost 1.7% to VND75,500.
Other large-cap stocks such as property enterprise VIC, housing developer VHM, dairy producer VNM, steelmaker HPG and petroleum stock PLX lost between 0.2% and 0.7%.
In the group of speculative stocks, many shot up to the ceiling prices, including GVR, VIX, AMD, KSB, VOS, CCL, LSS and TNH. Particularly, RIC of Royal International Corporation shot up to the ceiling price at VND28,850 for the 27th straight session.
Meanwhile, FLC, ROS, LPB, HQC, HAG, HSG, HNG, ITA, HBC, KBC, DLG, LCG and FIT ended in the red.
On the Hanoi Stock Exchange, the HNX-Index went up 0.34%, or 0.81 point, to close at 238.78 points, with winning stocks also outnumbering decliners by 73 to 61. There were 124.7 million shares worth more than VND2 trillion changing hands on the northern bourse.
Some bank stocks were among the major contributors, including SHB, which was up 3.8% to VND16,300 and NVB, rising 7.4% to VND14,600.
Many other bluechips also gained ground like petroleum stock PVS, up 4.2% to VND22,600, securities firm MBS, up 4.6% to VND20,400 and fertilizer firm LAS, up 8.4% to VND8,900.
A number of stocks shot up to the ceiling prices, including TIG, MBG, S99, ACM, TDT, CVN, BNA, SPI, HHG and DNP.
SHB took the lead by liquidity with 31 million shares changing hands, followed by PVS with 15.5 million shares, SHS with 9 million shares and NVB with over 7.2 million shares.
TAG: