Local stock markets continue gloomy trade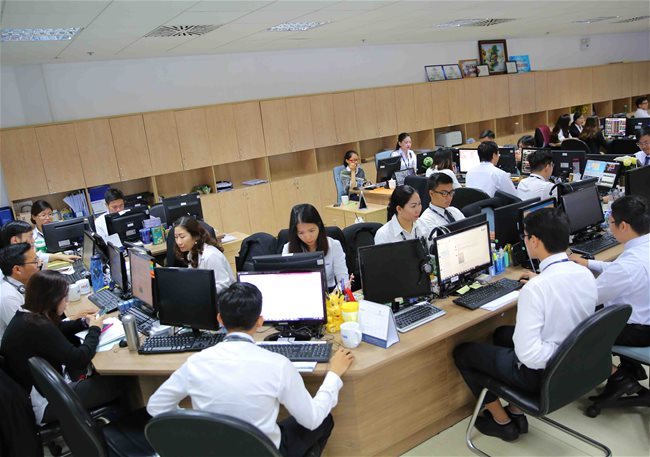 Traders are at work at HSC Securities Corporation in HCMC. The VN-Index of the Hochiminh Stock Exchange ended down 3.43% today, January 27 – PHOTO: THANH HOA
HCMC – Downbeat sentiment, coupled with strong selloff, dragged the VN-Index of the Hochiminh Stock Exchange down 3.43% today, January 27.
At the close, the main index lost 38.9 points at 1,097.17, with 51 gainers and 413 decliners. Trade volume totaled 785.7 million shares worth VND16.8 trillion changing hands, down 4% in both volume and value from the session earlier. Block deals contributed VND1.1 trillion to the total value.
In the VN30 basket, nine stocks comprising gas firm GAS, lenders CTG, VPB, MBB, TPB and EIB, rubber group GVR, electricity firm POW and retailer VRE dipped by over 5% each.
Housing developer VHM, steelmaker HPG and tech giant FPT were also among the worst performers on the southern bourse.
Lender STB was still the most actively traded stock in the VN30 basket with over 32 million shares changing hands, followed by HPG and MBB.
Among the medium and small stocks, construction firm ROS and property developer FLC, despite coming under selling pressure, made strong gains to end up 5.9% and 6.7%, respectively.
FLC took the lead on the southern market by liquidity with a matching volume of 45.6 million shares, while ROS came second with 39.9 million shares traded.
The Hanoi Stock Exchange also closed in downward mood as the HNX-Index dropped 7.03 points, or 3.09%, against the day earlier, at 220.79. Trade volume shed 22.7% to 146.8 million shares while the value fell by 21.8% from the previous session.
Most of the large-cap stocks lost ground at the end, with lender SHB, petroleum stock PVS and stone manufacturer VCS dropping by 4.9%-8.6%.
SHB was the most actively traded stock on the northern bourse with 23.2 million shares changing hands.
Many small stocks such as service firm KLF, construction firm HUT, mining stock ACM and electric device producer MBG plunged into their floor prices.
TAG: