Increased liquidity helps VN-Index approach 1,200 points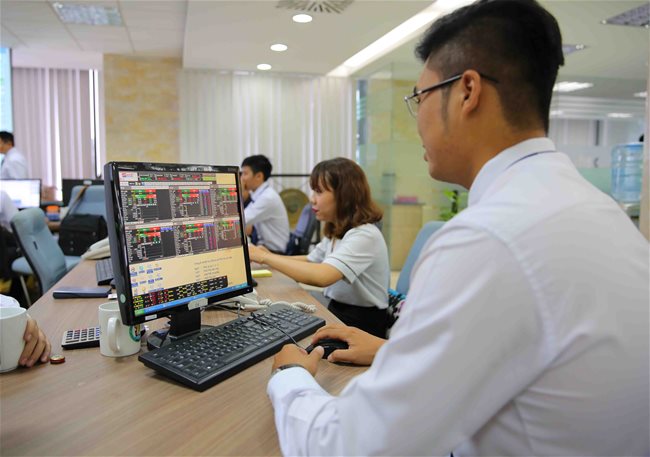 An employee of Hochiminh City Securities Corporation monitors stock prices. The VN-Index of the Hochiminh Stock Exchange rose 0.57% today – PHOTO: THANH HOA
HCMC – The increase in liquidity sent many stocks hitting their daily ceiling prices but the VN-Index of the Hochiminh Stock Exchange still missed the 1,200-point mark today, January 15.
With winning stocks far outnumbering losing ones by 320 to 134, the benchmark VN-Index added 0.57%, or 6.8 points, against the previous session to end at 1,194.2 points. The southern market saw 46 stocks shooting up to their ceiling prices.
Trading volume rose slightly to 783.11 million shares, while value increased 9.5% from the session earlier to VND18.7 trillion. There were 36.9 million shares worth over VND2.38 trillion traded in block deals.
In the VN30 basket, 23 stocks made gains.
Among the bank stocks, STB was the biggest gainer, surging 5% to VND21,200, while HDB, TPB and TCB rose 3-4%. The market saw 51.7 million STB shares traded, the highest trading volume of the stock ever. VCB was among a few bluechips that lost ground as it fell 0.5%.
Some petroleum stocks such as PVD and PVT shot up to their upper prices, with around 10 million shares transacted each.
Securities stocks continued to perform well, with AGR soaring to its ceiling price, and SSI, BSI and CTS advanced 4.5% to VND36,950, 3.9% to VND17,400 and 5.8% to VND18,200, respectively.
Several large-cap stocks such as VHM, VIC and VNM also gained ground, contributing to driving the VN-Index up.
Brewery SAB and real estate developer NVL were some of a few declining bluechips, dropping 2.2% to VND200,500 and 3.6% to VND72,500, respectively.
Many small and medium stocks hit their ceiling prices, including HQC, DLG, ROS and AMD.
On the Hanoi Stock Exchange, the HNX-Index added 1.44%, or 3.2 points, to end at 225.47 points, with 138 stocks winning and 65 others losing. There were more than 174.5 million shares worth nearly VND2.78 trillion changing hands, up 40% in volume and 48.28% in value compared with the previous session.
Securities stocks were the biggest contributors. VIG, PSI, HBS and WSS moved up to their ceiling prices, while MBS and SHS increased 5.8% to VND23,700 and 5.4% to VND31,000, respectively.
TAG: