Work on Long Thanh airport project to begin next month
By Vu Yen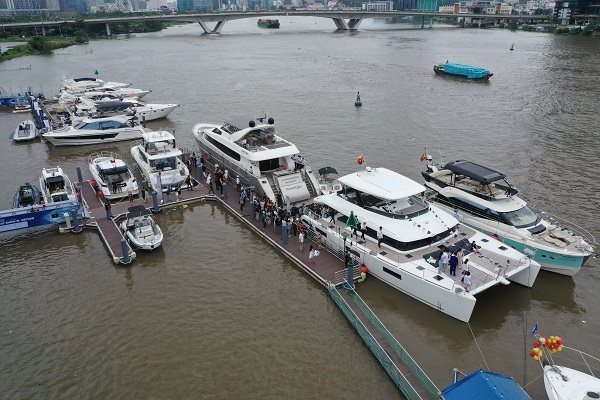 Yachts displayed at the Saigon Yacht Show in District 2 – PHOTO: CHUONG NGUYEN
HCMC – HCMC has organized the Saigon Yacht Show on a large scale for the first time in Lan Anh Village in District 2.
The show, which is set to wrap up on January 1, 2021, has attracted the participation of numerous yacht distributors in Vietnam, including Tamson Yachting, Regal Boats, Trung Vector, Rapido Trimarans, Chaparral Boats, Galeon Yacht, Dream Yacht, Blue River, Vietyacht Saigon and the Wolf Brothers as well as several experts in the shipping and yacht sectors.
Le Minh Hieu, chief editor of Navigator, the organizer of the show, said that Vietnam is a potential market for yachts.
Many experts predicted that in the next three years, the number of yachts will rise sharply in the local market. Vietnam is home to 15 yacht firms, compared with the figure of two or three firms in 2017, the representative of Navigator added.
The show is aimed at popularizing the definition of yachts among the Vietnamese people.
Yachts are small or medium-sized ships used for pleasure, entertainment or sport.
The Saigon Yacht Show 2021 is expected to provide visitors with information and knowledge about yachts and offer an opportunity to local and international yacht firms to access partners and customers.
Apart from this, the show will also contribute to driving up the growth of the Vietnamese yacht industry.
Visitors at the show can examine 22 attractive yacht models, experience yacht trips on the Saigon River and join a training course to use standup paddle boards, among other activities and programs.
Besides, the Yacht Club Saigon will be introduced at the show. The club, once in place on February 1, 2021, will offer operational and technical services for yachts in HCMC and the country.
TAG: