Top 8 resorts to the most Danang
Da Nang is a very famous tourist city in Vietnam, where many people in the country are known and also attract a lot of tourists by the beautiful beaches along with the famous tourist attractions that are passionate about people. If you are looking for travel to Da Nang but still do not know where to rest? Or are you not yet known to choose which resort to be able to rest and relax for a complete tour. Let's take a look at the following article as the most luxurious resort in Danang. The resorts you are about to introduce below will definitely not disappoint when choosing, so if you have a chance to try at least once!
InterContinental Danang Sun Peninsula Resoft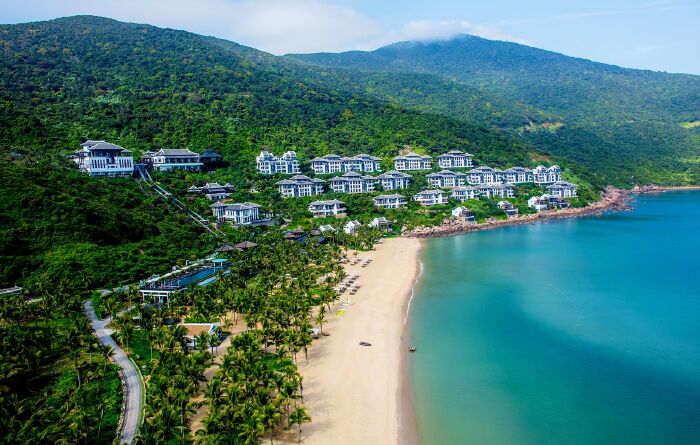 Best Resort in Da Nang-InterContinental Danang Sun Peninsula Resoft. (Photo: Internet)

Soak up the legendary hills of the famous son Tra Peninsula and be surrounded by a stunning landscape with panoramic views of the South China Sea, the iconic 197 room of the luxury resort by renowned architect Bill Bensley from Bensley Design Studios Bangkok. Operating from June 6, 2012, this is the first InterContinental resort in Vietnam.
6-star hotel in Da Nang owns the unique architecture has been recognized as the most luxurious hotel in the world with many luxury facilities and structures. The legend of Intercontinental Danang is in possession of a beautiful position when in the place of peace, the rich of son Tra Peninsula in front of the sea, surrounded by romantic bow in harmony between the river of Friendship Mountain combined with modern beauty in the beautiful architecture. Luxury restaurant, ideal view point, swimming pool, spa... are very eye-catching, carefully designed to not only highlight the scenery of romantic mountains, the resort also has a subtle elevation of layout and structure of fancy space.
Not too strange when InterContinental Danang Sun Penninsula Resort topped the list of the most luxurious resorts in Da Nang because it brings relaxation to visitors with top quality and many outstanding tourist amenities are highly appreciated.
Furama Resort Da Nang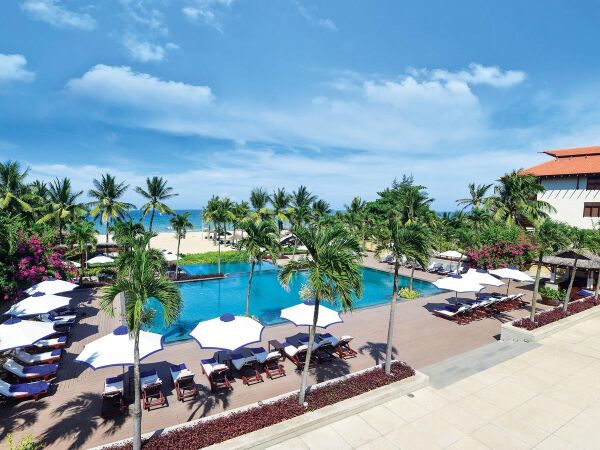 Best Resort in Da Nang-Furama Resort Danang. (Photo: Internet)

Let's once visit this charming resort in Da Nang to see its beauty accurately. Modern from the inside but the hide contains beautiful romantic, soothing full of classical paintings. Furama Resort Danang offers beautiful views of the beautiful tropical gardens with palm trees, flowers and romantic departments. Furama Resoft is a renowned 5-star hotel in Danang that has received a grand prize in the world's leading tourist service. The resort is invested and has a unique, innovative architecture with the gentle combination of modern elegance that will bring visitors a best stopover destination. Not only that, Furama Resoft also has a beautiful location when hanging out by the charming North American beach with white sand and stretches of water, blue Sea is suitable for tourist activities or bathing.
Premier Village Danang Resort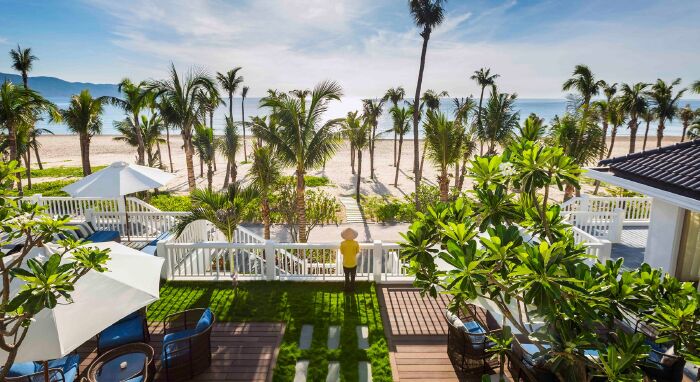 Best Resort in Da Nang-Premier Village Danang Resort. (Photo: Internet)

Located on the beautiful My Khe beach with stretch white sand, Premier Village Danang Resoft offers guests relaxation with modern and best services. This is a creative resort with a unique blend of sea view. Each villa has luxurious amenities and separate pool services that will give guests an absolute relaxing holiday.
Pullman Danang Beach Resort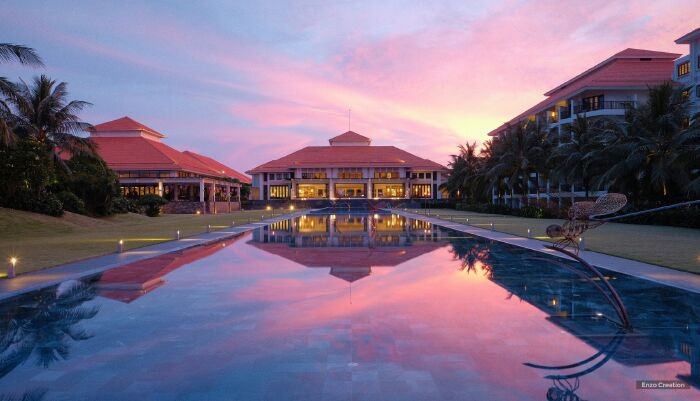 Best resort to Da Nang-Pullman Danang Beach Resort. (Photo: Internet)

Pullman Danang Beach Resort is located on the beautiful white sands of bac My An beach, which is a luxury oasis with many high-class holiday services. From the resort, you will also take only a few minutes to go to 2 international standard MONTGO Golf course.
Hyatt Regency Da Nang Resort & SPA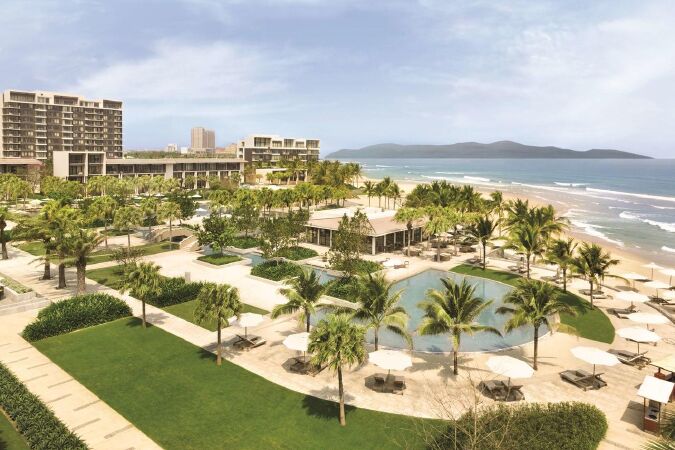 Best resort to Da Nang-Hyatt Regency Da Nang Resort & Spa. (Photo: Internet)

The beauty of Hyatt Regency is a sunny way with an eye-catching balcony shelf built on a modern, open structure. The road in the Hyatt Regency is not inferior to the most luxurious resorts in the world. The resort also offers a fascinating beauty of structure, design, and layout. Hyatt Regency Da Nang Resort & Spa is the most exclusive holiday in Da Nang, this is a stopover that can satisfy even the most discerning guest.
Vinpearl Premium Da Nang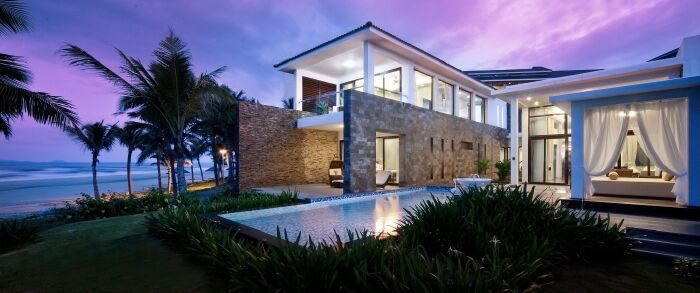 Best Resort in Da Nang-Vinpearl Premium Da Nang. (Photo: Internet)

Who once came to Vinpearl Premium Da Nang, will not be able to forget about the flashy life and splendid in this "earthly paradise". Vinpearl Premium Da Nang is an ideal tropical stopover where you can lie on the white sand beach or by the charming pool of the sea, sipping cool cocktails, listening to the sea waves patting the fine sand or the poplar forest. The space designed with Cham architecture combined with French classical architecture brings fresh feeling to visitors.
Naman Retreat Resort Danang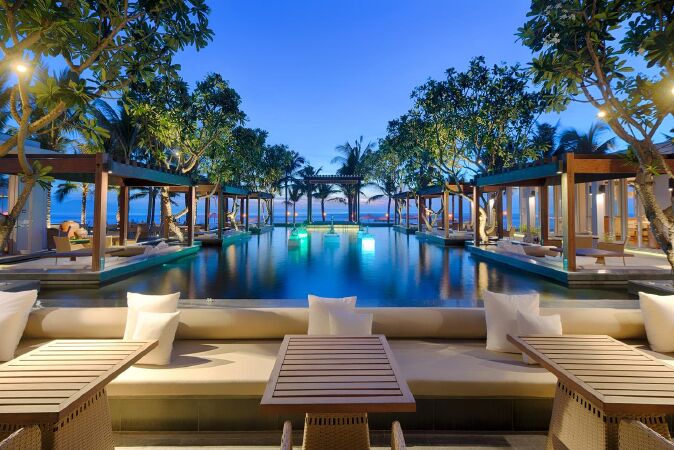 Best Resort in Da Nang – Naman Retreat Danang. (Photo: Internet)

The resort Naman Retreat Danang is a harmonious combination between the heritage, Vietnamese culture transcends time and the elegant of contemporary architecture. Only 500m from the famous Montgomerie Links golf course, Naman Retreat Danang welcomes guests with an outdoor swimming pool and a private beach area. Naman Retreat offers spacious rooms and villas. Guests can enjoy rejuvenating spa treatments at the spa and sauna facilities. A variety of local and international dishes are served at Naman Retreat Restaurant. Guests can also choose to dine in their rooms.
Impressed by the traditional bamboo architecture, the exquisite interior decoration and the hospitality of the Vietnamese, Naman Retreat is confident to bring you a great holiday experience.
Naman Retreat – the perfect place to stay for those who desire to seek out the way, unique and eager to wake up their own senses. We break the boundary between resort and spa treatment, provide a comfortable living space and opportunities to soothe the mind, heal the body and refresh the soul. Naman Retreat is inspiring, bringing innovation and enriching your own life.
Hilton Danang Hotels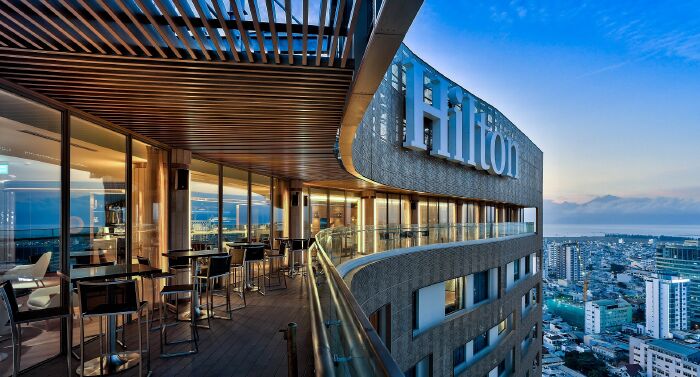 Most Resort sang Da nang-Hilton Hotel Danang. (Photo: Internet)

Located right in the city centre, right on the banks of the Han River, the Hilton Hotel Danang offers relaxing experiences for tourists as well as the guests of the service. Impressive with a height of 28 floors, the hotel includes 223 beautiful rooms, attentive service along with spacious meeting room system and restaurants, modern bar.
All rooms are oriented towards the legendary Han River and the blue Ocean from the high floors. The meeting hall is spacious and flexible along with 8 small meeting rooms filled with natural light. Besides, international cuisine as well as Vietnamese flavours with fresh local ingredients.
Located on the 4th floor, the fresh design and creative space are surrounded by green foliage that gives a sense of natural outdoor experience. The relaxation area is located in a beautiful location, overlooking the Han River.
On this article are the most luxurious resorts in Da Nang. Hopefully, this article will help you know more luxury resorts and can pick up yourself to be a suitable resort to get a full tour with family and relatives. If you love this article, don't forget to click Vote for the resort you like and share to let everyone know!
Most resort sang Da Nang
Da Nang
InterContinental Danang Sun Peninsula Resoft
Furama Resort Danang
Premier Village Danang Resort
TAG: