Top 10 most famous pottery villages in Vietnam
Vietnamese culture is known to many places in the world and there are even many countries who also want to find and learn the traditional villages of the Vietnamese ethnic minority. Vietnam has a lot of traditional villages such as fishing village, Brocade Weaving village, village, Flower village, carving village, land pot... And the most famous in Vietnam is the pottery village. Every pottery village in Vietnam is very much with famous celebrities. Not only the pottery villages are many tourists to visit and experience pottery here. Many pottery villages are famous for their quality and different names on the three regions and here is a list of the most famous pottery villages in Vietnam, inviting you to check it out.
Chu Đau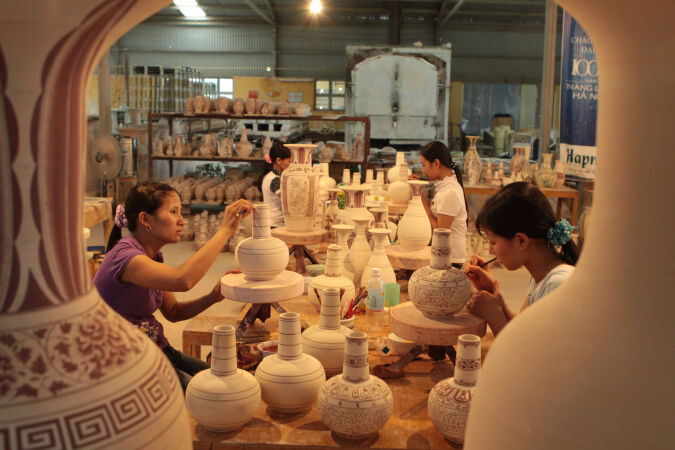 Chu Dau Pottery Village. (Photo: Internet)

Chu Dau Ceramic is a traditional Vietnamese pottery in Hai Duong province which appeared in the 13th century, Flourilit in the 14th century, by the 17th century pottery is lost. After more than three centuries of absence, the Chu Dau pottery has been recovered and gradually become the value items in domestic and foreign markets.
With the ceramic material is white clay, after undergoing sedimentation, filtration, annealing to remove impurities, ceramic material is heavy broached on the turntable to form.
Bat Trang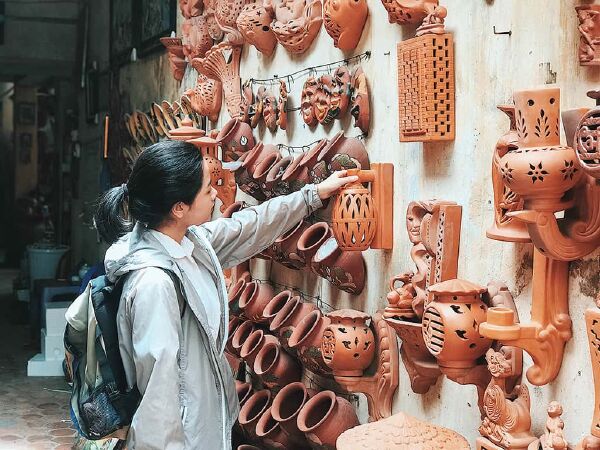 Bat Trang Ceramic village. (Photo: Internet)

Along with Chu Dau pottery, bat Trang Pottery village also has a long history of around the 15th century. Pottery village located in Bat Trang commune, Gia Lam District, Hanoi.
To make pottery, the bat Trang has to take over the land selection, processing-dispensing, posing, creating pattern, covering enamel and calcining products. All these stages are carried out in a strict process.
In addition, Bat Trang ceramic is known as the only pottery village in Vietnam to retain a wide range of ancient enamel. In it, the enamel is the most used yeast. In particular, bat Trang ceramic has a blue enamel, brown yeast, white enamel (ivory), glaze, yeast. So far, the secret of glaze in Bat Trang elsewhere is hard to copy.
Phu Lang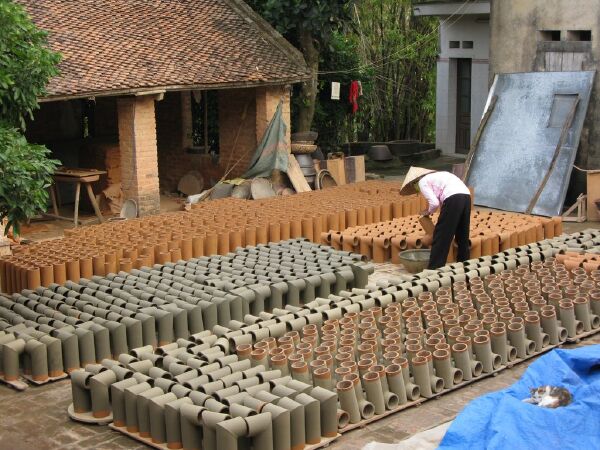 Phu Lang Pottery village. (Photo: Internet)

Phu Lang Pottery Village is located in que Vo District in Bac Ninh Province, was formed and developed in parallel with bat Trang ceramic, also mentioned as one of the Vietnamese pottery villages which are present very early. However, compared to bat Trang ceramic, the Phu Lang ceramic has its own characteristics of ceramic color. Ceramic glaze is mainly the enamel of eel skin, largely to not cover enamel.
The feature of Phu Lang Pottery is to use the method of embossed in the form of tapping (double tap) rather than using molds that create shapes on the wheel.
To this day, the ceramic products of Phu Lang are fired using charcoal furnaces. The products are mainly ceramic appliances, chum, jar, subconnoisseur from red clay
Phu Lang Pottery had a recession phase and almost a while now the artisans have blown new souls into old ceramics, turned towards the production of fine art ceramics, using a variety of colors to decorate the product, so ceramic Phu Lang is slowly escaping the recession and gradually develops back.
Tho Ha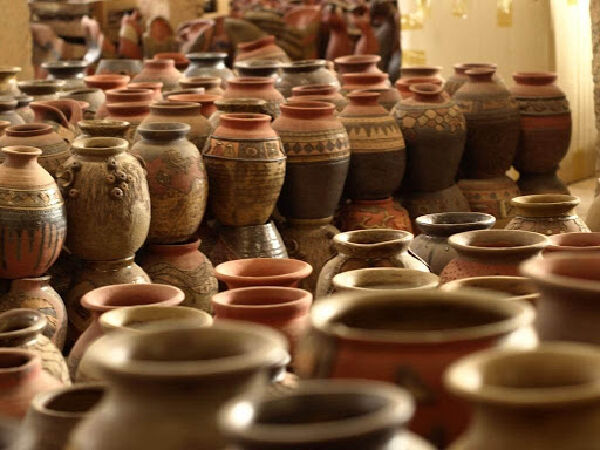 Tho Ha Pottery Village. (Photo: Internet)

Tho Ha Pottery Village is one of the cradle of Vietnamese ceramics located in Bac Giang province. The pottery village, which appeared around 12th century, is known for a time, with ceramics products covered with eel skin, most of which are civil ceramics such as Lu, pots...
To create the durable products, Tho Ha ceramic artisans have used gold clay, blue Lightning, few hotels and easy-to-create impurities.
The characteristic of Tho Ha ceramic is not used yeast, the product is fired at high temperature and the flow of enamel and connoisseurs. The ceramic is dark brown, bruised, knoped as steel, contains waterproof liquid, the solid is not moist hooks, durable and keep color well over time.
However, by about 80 the products of chum,... Difficult to sell, so put an end to a Vietnamese ceramics village – Phu Lang Pottery.
Phuoc Tich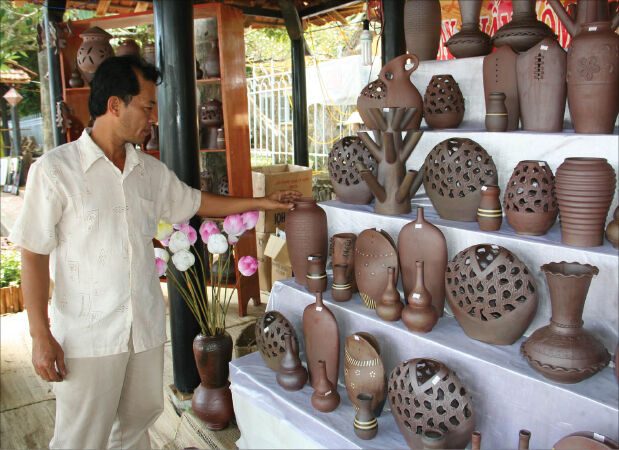 Phuoc an pottery village. (Photo: Internet)

Phuoc Tich Pottery Village is located in Thua Thien Hue province. Initially ceramic products are manufactured to serve the royal Court of Nguyễn, mainly ceramic household such as Lu, pots, soil pot, super drug... With simple pattern.
Ceramic clay Here after the kiln is dark gray. The tools for the production of crab workers are very rudimentary as embroidery, masonry, broaching, completely handmade irons. The mechanic produces the product directly by hand. The furnace used is the furnace, and the furnace is back.
This pottery village has been devastated and is now being restored towards the production of fine art ceramics but still has not yet achieved much success.
Thanh Ha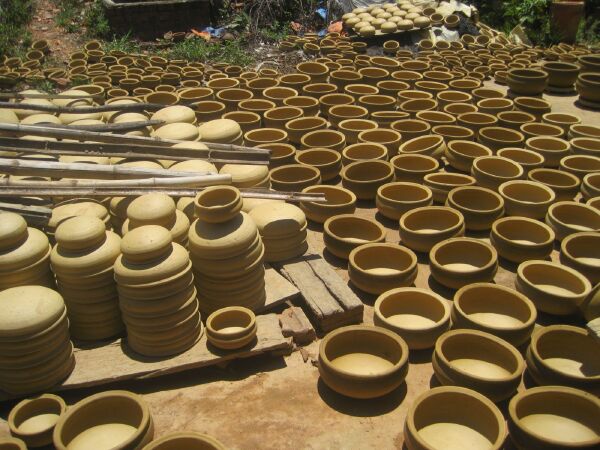 Thanh ha Pottery village. (Photo: Internet)

One of Vietnam's pottery villages is to mention that the Thanh ha Pottery village, located in Hoi An with an age of about 500 years, is famous for its durable terracotta ceramic san.
The ceramic products from clay are especially very special when baked for products with orange, porous and light red. The potter can create natural or decorative textures as required by carved out the product. Ceramic is fired with wood furnace.
Today Thanh ha Pottery Village still produces handmade with traditional means and techniques. The major products in Thanh ha are the lamps, paintings, decorative statues of all kinds.
Bau Truc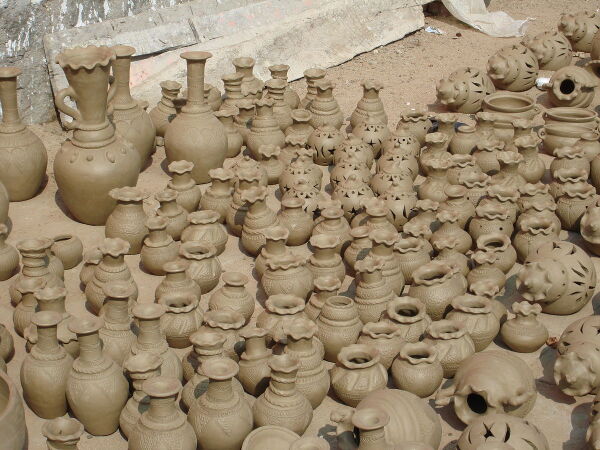 Bau Truc Pottery Village. (Photo: Internet)

It is one of the oldest pottery villages in Southeast Asia to this day. Bau Truc Pottery Village is located in Binh Thuan Province is the Cham Pottery village.
Ceramic products do not use a turntable that produces full manual shape. The decorative pattern on the pottery are the river shaped waterlines, scalloped dots and plant pattern, there are both nail pattern on the shoulder of very rustic ceramic, close to the people.
The product is fired by a pile of outdoor, straw and firewood and then fired at 700-900 degrees Celsius. Ceramic Bau Truc is red yellow, pink red, black gray, brown streaks. The ceramic products are usually not covered with yeast and no one is. Unique ceramic products, bringing the "shimmering of Champa culture".
Apricot tree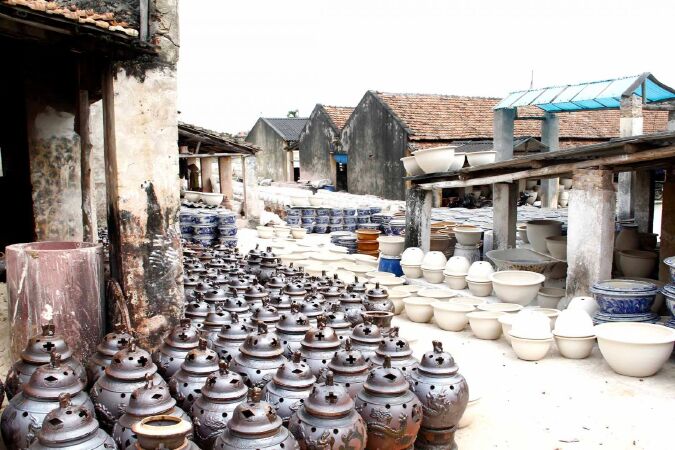 (Photo: Internet)

Mai Pottery Village was formed in the 17th century in Saigon, by the Chinese division to enter immigration in Vietnam.
Apricot Pottery has very unique features. The unique glaze ceramic product at first glance is simple but inside is the norm in the shape, thoroughly in dots and harmonization in the overall composition. Ceramic products often combine cobalt blue, moss blue, brown eel, green bottle, black, white, red gold...
Apricot Ceramic products also range from bowl, cup, bowl to landscape, statue. However, due to the urbanation of Saigon, the ceramic kiln has moved to the driving, Binh Duong so today pottery and apricot trees have been devastated.
Bien Hoa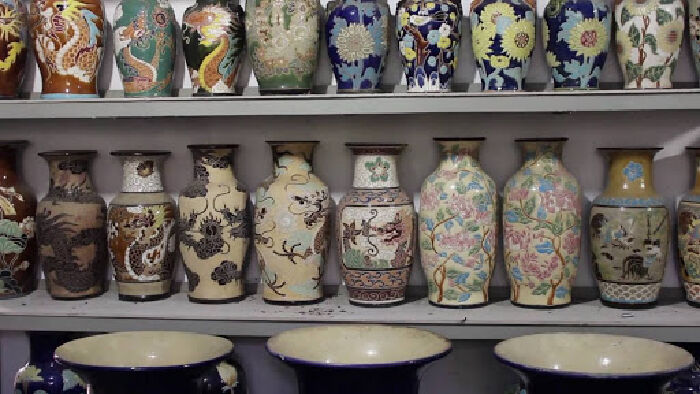 Bien Hoa Pottery village. (Photo: Internet)

The village of Bien Hoa Dong Nai is the child of the Apricot pottery. The ceramic products of Bien Hoa are usually not the same as any ceramic line.
Two important elements that make up the distinctive beauty of Bien Hoa ceramic are high-quality raw materials and clay, along with the level of skilled potters.
The ceramic production process consists of a turntable shape or in the mold, the decorative drawing, the embossed or the puncture then coated with coloured enamel on the decorative parts before putting in the furnace. Bien Hoa Ceramic is a styrofoam with earthy mist, light fire.
Today ceramic Bien Hoa still developed but mainly serve for export and follow orders, no longer as diverse as before. The products also reduce the artistic elements, the wonders and the subtle.
Lai Thieu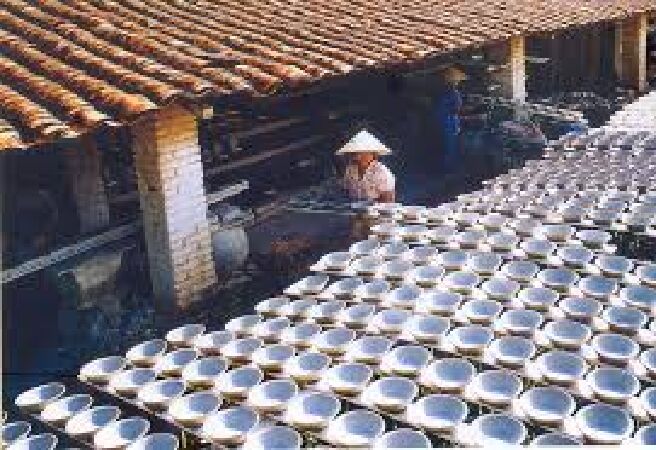 Lai Thieu Pottery Village

Lai Thieu Pottery Village – Tan Phuoc Khanh – Thu Dau an (Binh Duong) appeared in the late 19th century. Thanks to the source of kaolin clay and abundant wood burning materials, the ceramic village is diversified.
The production facilities here are not concentrated but scattered in 3 areas are Lai Thieu, tan Phuoc Khanh and Thu dau an oil. Home appliances manufacturing, fine art ceramic is mainly.
All the products are made by hand and fired with traditional wood furnaces. The products serve mainly for export market so today Ceramic Binh Duong has gone towards industrial production and investment in modern machinery to bring high quality products satisfactory.
On this article are the most famous pottery villages in Vietnam that you want to send to readers. Hope to help you know more about these pottery villages as well as get a better understanding of Vietnamese culture. Thank you for reading your interest in the article remember like and share to everyone who knows about the most famous pottery village in Vietnam.
Vietnam
the most famous pottery village in Vietnam
Pottery village
famous pottery village
Chu Dau Pottery Village
TAG: