Top 9 Most beautiful and quality resort in hue
Hue is a dreamy city with many ancient architecture and tourist areas attract a lot of visitors. Many tourists choose to visit hue to travel and enjoy the specialty dishes here. When you come to hue the first thing you are interested in are the tourist attractions and most are the hotel for you an ideal stopover location. Hue not only many hotels but also a lot of beautiful homestay and quality. You are so so many choices, check out this article is the most beautiful and quality resort in Hue, please take a look.
Ana Mandara Hue Beach Resort & SPA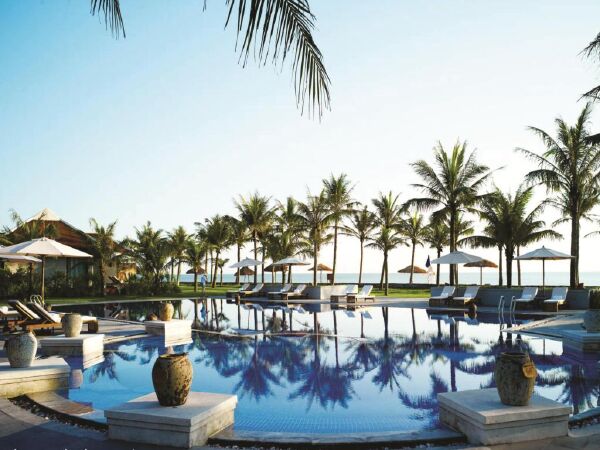 Quality Resort in Hue-Ana Mandara hue Beach Resort & Spa. (Photo: Internet)

Used by Lifestye Tourism as the best beach holiday paradise in Southeast Asia in 2017, Ana Mandara Hue Beach Resort & Spa is also used as a place to keep happy moments of couples. Located on the beautiful Thuan An beach and Tam Giang Lagoon. From this special position visitors will have interesting, wonderful feelings here.
It is known that Ana Mandara Hue has all 78 rooms and villas including 20 villas with sea view Beach Villa and 4 sea view villas with a separate pool. All rooms have well-equipped interiors such as televisions, WiFi, private balconies, hot water heaters,...
In addition, this resort in Hue has 2 culinary restaurants, heated swimming pools, mud bath spa, fitness room and wine bar, the bar right next to the pool will give you romantic parties, warm or relaxing moments with relatives and friends. Come to Ana Mandara Hue Resort You will surely forget to think Hue only each ancient mausoleum, because nature is so beautiful that the heart makes people remember forever.

Address: An hai Hamlet, Thuan An town, Phu Vang District, Thua Thien Hue Province
Banyan Tree Lang Co Resort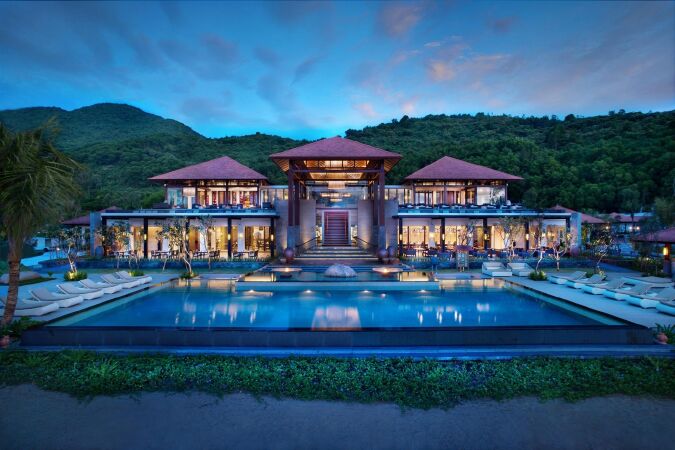 Quality Resort in Hue-the Banyan Tree Lang Co. (Photo: Internet)

Banyan Tree Lang Co is a resort brand in Hue luxury resort in the area of Phuoc A. Banyan Tree Lang Her resort consists of 49 villas including 17 villas facing the sea with an area of 124 m2. Each villa is luxuriously designed and fully equipped with amenities.
Not only the beautiful view space, romantic beach, cuisine in Banyan Tree Lang Co also make visitors unforgettable with the tasty, delicious dishes. Here in addition to Vietnamese, Thai dishes are also worth the taste of Europe.
In addition, Banyan Tree offers an outdoor recreation area with over 100 water sports and on the ground and a modern golf course system. If you're looking to find Hue Lang Co Resort, the Banyan Tree Lang Co is an ideal place for vacation.

Address: Cu No village, Loc Vinh Commune, Phu Loc district, Hue CITY
Angsana Lang Co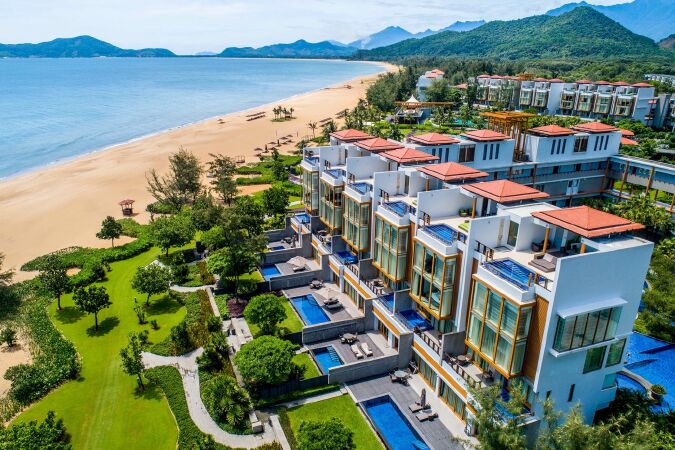 Quality Resort in Hue-Angsana Lang Co. (Photo: Internet)

Angsana Lang Co Hue Resort is rated as one of the resorts in hue in the most ranks. It consists of 229 stylish rooms and luxurious rooms. Angsana Lang Co is known as the longest swimming pool in Southeast Asia, because it has a small, 300-long winding river that embraces the buildings.
Each apartment is facing the sea, giving the person a comfortable, pleasant feeling when enjoying the cool breezes of the sea. All rooms are fully furnished, comfortable and clean.
In addition, the hotel also offers a fitness center, sauna, golf course that gives guests a relaxing moment, great entertainment. Besides quality, Angsana Lang Co also causes good customer experience by professional staff, dedicated. If you don't know where to go in hue, don't forget to come to Angsana Lang Co to experience the convenient service here in Nha Trang.

Address: Cu No village, Loc Vinh Commune, Phu Loc district, Hue CITY
Pilgrimage Village Hue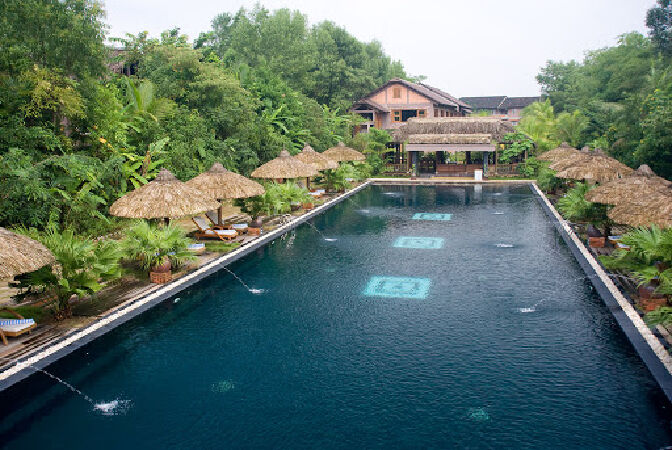 Quality Resort in Hue-Pilgrimage Village hue. (Photo: Internet)

Located in the Top resort in Hue, which ignored the name Pilgrimage Village hue is indeed unfortunate. This is considered an ideal resort of hue. With 99 rooms per room is a secluded house with garden, trees, balcony overlooking the lake. The space is very quiet and suitable for leisure, this hotel also has an advantage near some of Hue's mausoleum so you can combine resort and sightseeing always.
The environment is very clean and the staff is very friendly and helpful. I will definitely stay here again.

Address: 130 Minh Mang, Hue CITY
La Residence Hotel & Spa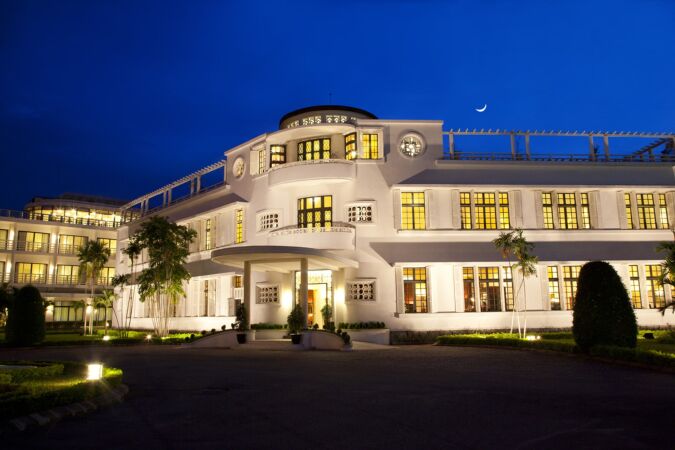 Quality Resort in Hue-La Residence Hotel & Spa. (Photo: Internet)

Considering the resort in Hue can not ignore the name La Residence Hotel & Spa is. This is a hotel in Hue was voted 1 in the top 20 resorts of Asia and the 5 best hotels in the world by Conde Nast Traveler, Travel + Leisure voted.
Located in the heart of Hue CITY, La Residence is an extravagant white castle next to the poetic perfume River. With 122 rooms including Le Paffum restaurant, Bar, swimming pool, tennis courts,... All designed with a bold impression of the art – Deco tropical decoration.
La Residence offers a variety of tasty, delicious dishes in addition to the beautiful space. Beauty services, customer care with professional service staff, friendly. From the above advantages, La Residence is one of the most resort locations in hue ideal for domestic and foreign tourists.

Address: 05 Le loi, Vinh Ninh ward, Hue CITY
Alba Wellness Resort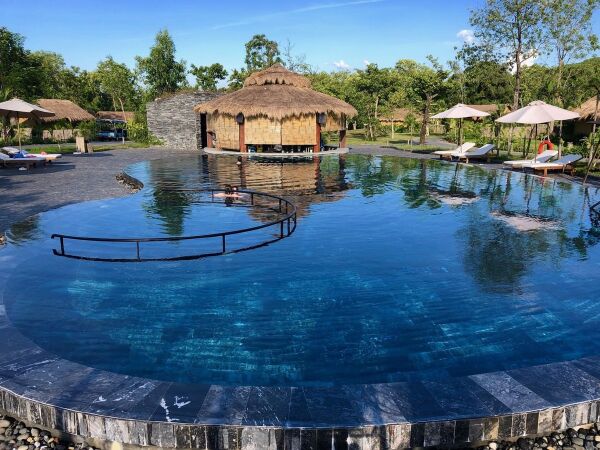 Quality Resort in Hue-Alba Wellness Resort. (Photo: Internet)

Located at the foot of the majestic Truong son Mountain, about 30km north of Hue Citadel, Alba Wellness Resort is built right on the legendary natural hot mineral, surrounded by trees, lakes, green gardens, winding streams and local culture bold hue. The peaceful and beautiful space here invites you to leave behind the sorrow, strenuous to enjoy life in the way that you each wish.
Surrounded by trees, lakes and bamboo paths, Alba Wellness Resort offers 56 hotel rooms and bungalows located in two distinct areas: Alba Inn and Alba Village. You can slow down, listen to the body, look deep into your inner focus through a wide range of holistic healthcare activities such as Onsen, spa, yoga, meditation and other advocacy exercises. After moments of relaxing Onsen bath, invite you to discover spa treatments in pure aroma and peaceful music.
Riverside Resort & Spa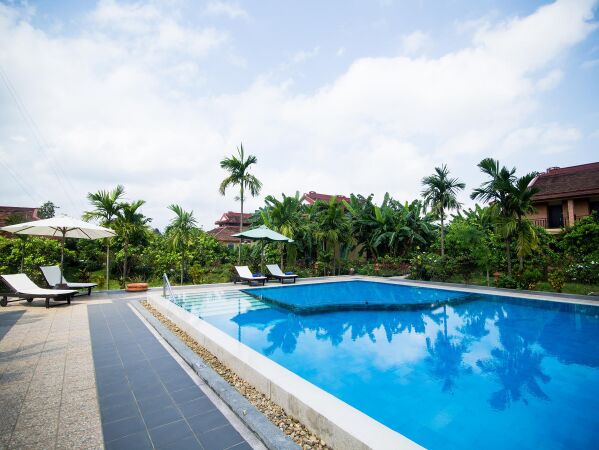 Quality Resort in Hue-Riverside Resort & Spa. (Photo: Internet)

Hue Riverside Resort & Spa is located right on the banks of the poetic Perfume River, with beautiful natural landscapes and pure. This is one of the environmentally friendly resorts with a dark green of the greenery, of the river water.
The architecture of Hue Riverside Resort & Spa is very special and unique, get the idea from the ancient houses in Hue citadel with golden brick walls, red tile roofs, hidden from the green trees, create a peaceful space, isolated and quiet.
The rooms of this resort are beautiful, is a harmonious combination between modern and ancient. There are some rooms with private swimming pool, which give you free moments of comfort and rest.
Vedana Lagoon Resort & Spa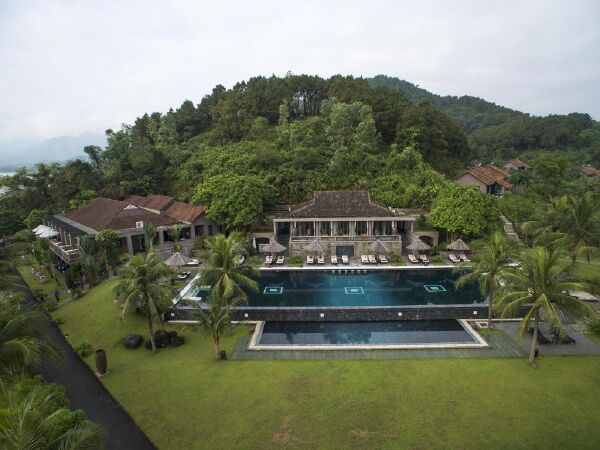 Quality Resort in Hue-Vedana Lagoon Resort & Spa. (Photo: Internet)

One of the beautiful modern resorts attracts the most visitors in Hue itself is Vedana Lagoon Resort & Spa. Located on the shore of a peaceful and tranquil lagoon, the resort shows you a strange and refreshing beauty of Hue City dreaming.
The entire resort consists of 27 bungalows designed as huts that stretch towards the lagoon, enjoy the beautiful space and the peaceful, clean atmosphere of the place.
These bungalows are very nicely designed, look outside simple, rustic but the interior of luxury and modern infinity. There are bungalows designed with private swimming pool, facing the lagoon, creating open space, for you to enjoy the sunrise and sunset views to the beautiful lagoon.
Vedana Lagoon Resort & Spa Hue is a resorts convergence full of luxury class, romantic and delicate, very suitable for the travel of couples. It also offers services such as a sweet meal or a candle light in the room to create the perfect space upon request.
Pilgrimage Village Huế Boutique Resort & Spa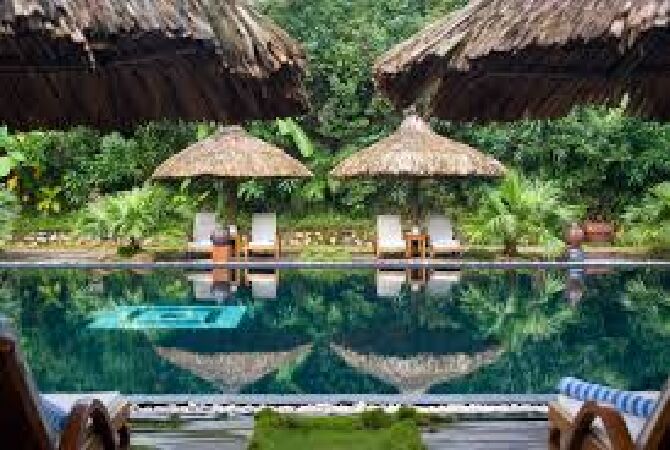 Quality Resort in Hue-Pilgrimage Village hue Boutique Resort & Spa. (Photo: Internet)

Ideally located in a quiet suburb in a rustic village surrounded by tranquil lush gardens, close to the iconic historic landmarks, Pilgrimage Village Hue Resort & Spa represents a sophisticated combination of traditional style and modern art.
The whole resort has 99 rooms with isolated villas and hotel rooms with modern design. Get ideas from the image of the ancient House of Vietnam with red brick walls, thatched roofs, Pilgrimage Village hue Boutique Resort & Spa offers guests amazing impressions from the room design, the layout and color scheme in the room creating a harmonious and cozy atmosphere.
However, the real attraction of this resort is in a very favorable position of the property. Not only can you visit the old craft villages around the resort but also easy to visit famous tourist attractions such as the Hanoi, the Tomb of Tu Duc, Khai Quan, Minh Mang, Thien Mu Pagoda, Dong Ba market and Thanh Toan Bridge tile... There are also other interesting places near the resort including Bach Mã National Park, Lang Co beach, Truc Lam Temple, and Thuan An Beach. It is undoubtedly an ideal choice for your hue tour.
On this article are the most beautiful and quality resorts in hue that you want to send to readers. Hope to bring you to read the ideal locations for your travels. Thank you for reading your interest in watching the article and don't forget to share it to everyone.
Hue
best resort and quality in Hue
Riverside Resort & Spa
Vedana Lagoon Resort & Spa
Pilgrimage Village hue Boutique Resort & SPA
TAG: