Top 8 Most scary suspension bridges in the world
To overcome the terrain and facilitate travel is more convenient or for the purpose of serving tourism in the roads with rivers, streams or the climber area so that there are many bridges built. But in special terrain, the suspension bridge is always the first choice because of the impressive technical wear and aesthetic harmony with nature. However, the suspension bridges also bring a sense of fragility and are extremely dangerous when traveling on it. So with those who are afraid of altitude, the hanging bridges below will be very scary hanging sentences. Look through the world's most scary suspension bridges.
Charles Kuonen Suspension Bridge, Randa, Switzerland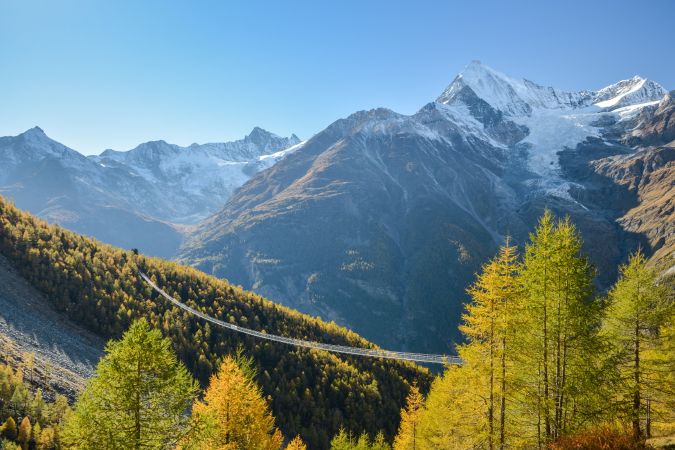 Charles Kuonen Suspension Bridge is 494m long, is the longest pedestrian suspension bridge in the world.

The bridge was inaugurated in March 7-2017 as a replacement for the damaged Europabrücke bridge. The bridge is at an altitude of 85m above the ground and you will have to steady your body as you walk on the bridge to shake. Charles Kuonen Suspension Bridge is a big challenge for those who are afraid of altitude. Charles Kuonen was built with a metal deck that could look straight downwards and holds the record for the longest walking bridge in the world.
Cesana Claviere Tibetan Suspension Bridge, Piedmont, Italy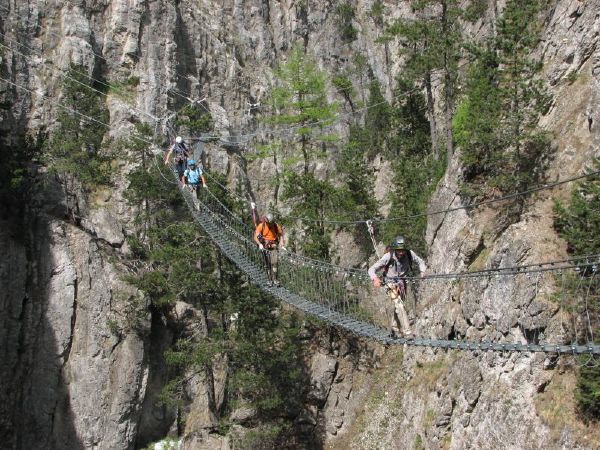 The bridge is designed quite "fragile", to the point that in the days of inclement weather one must close it. In fact, Cesana Claviere Tibetan consists of three bridges connecting with different lengths and height. The full-length of the bridge is 478m, located at 30m altitude above the ground (the third bridge is at a height of 90m above ground level).
Titlis Cliff Walk suspension bridge, Engelberg, Switzerland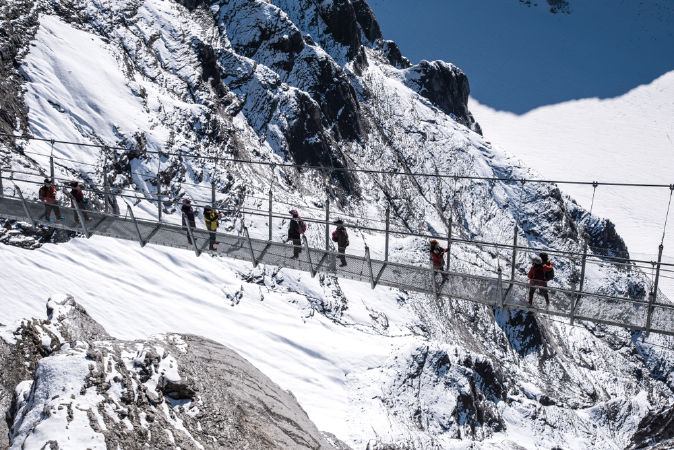 Titlis Cliff Walk is a pedestrian walk of nearly 460 m and located at 2,740 m above sea level, on a beautiful glacier in the Swiss Alps. This is the highest suspension bridge in Europe and is also the perfect place for visitors to admire the entire Alps.
Hussaini suspension bridge, Pakistan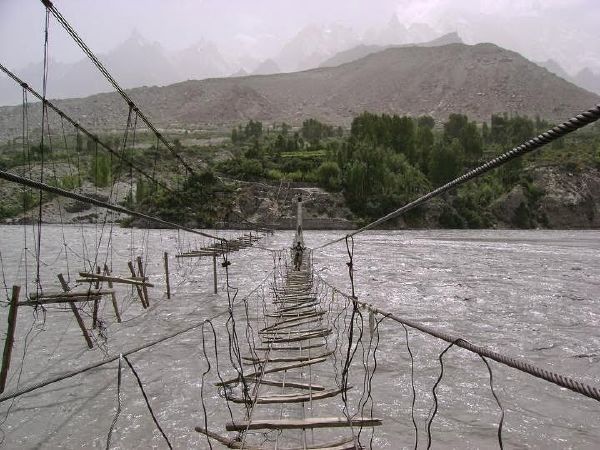 This bridge is made of wooden sticks of different sizes. When passed, this rope bridge will sway, if not careful may slip foot into the gaps.
Suspension Bridge in Madagascar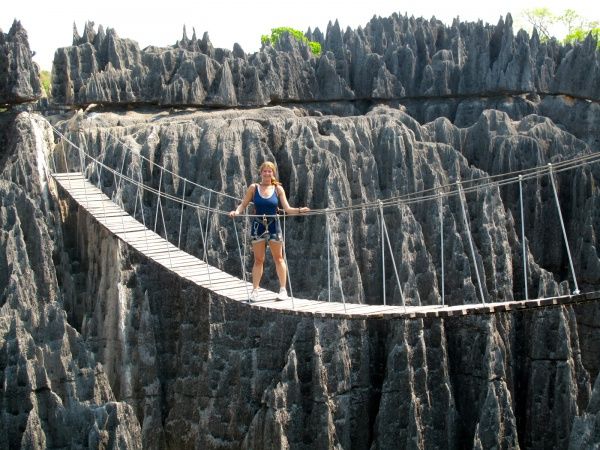 The narrow bridge sits at an elevation of 90 m, north through a deep-filled rock that stands in Tsingy de Bemaraha, Madagascar, not a place for the weakest visitors.
Capilano suspension bridge, Vancouver, Canada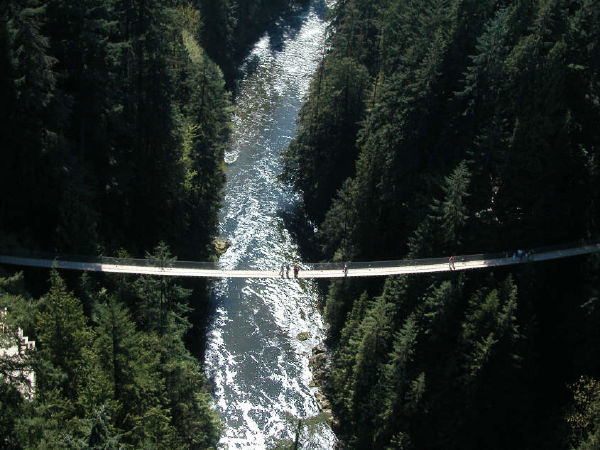 Cầu treo Capilano la mot trong những cay cầu treo đi bo dai nhất khu vực Bắc Mỹ, bắt ngang qua dòng song Capilano.

Cay cầu được George Grant Mackay khởi cong xay dựng vao năm 1889 bằng sợi day gai dầu va van gỗ tuyết tung. Đến năm 1956 cay cầu được xay dựng lại hoan toan bằng cap thep voi chiều dai 140m va nằm ở đo cao 70m so voi mặt song ben dưoi.
SkyBridge Suspension Bridge, Sochi, Russia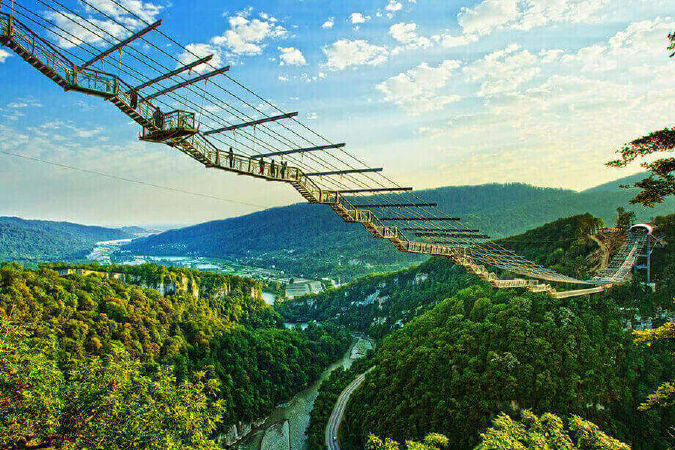 The Sochi Skybridge is 439m in length, which sits at an altitude above 200m above the ground, squeezed through the ridges of Sochi National Park.
Geierley Suspension Bridge, Germany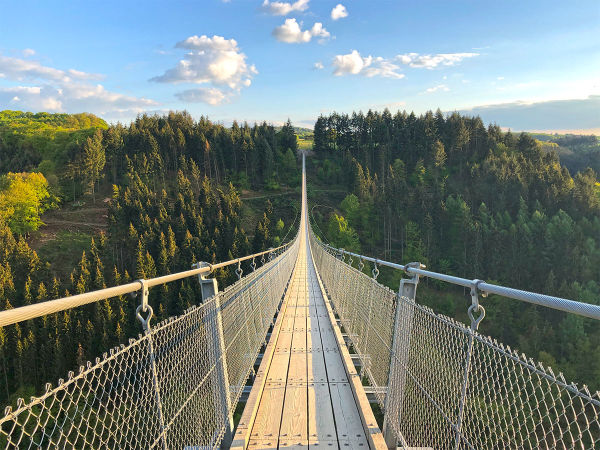 With a length of more than 365m, located at an altitude of nearly 100 m squeezed through the Geierley ravine, it is the longest suspension bridge in Germany.
Suspension Bridge in the world
the most dangerous hanging mongoose
the scariest suspension bridge
the most beautiful suspension bridge
the longest suspension bridge
TAG: