Unilever Vietnam supports efforts to build green, clean and healthy schools
The event was attended by representatives of the Ministry of Education & Training – Mr. Thai Van Tai – Director of Primary Education Department, the representative of Unilever Vietnam – Ms. Le Thi Hong Nhi – Head of Communications & Corporate Affairs, and leaders of the Department of Education & Training and teachers from more than 200 primary schools in Hoa Binh Province.
Build up a school model, nourish the country's future
Children are the future of a country. Educating and developing children and future generations are one of the most important and sacred responsibilities of every nation. Therefore, providing children with a safe, hygienic and healthy learning environment, equipping them with knowledge about school health and hygiene, as well as creating opportunities for them to participate in digital learning program to keep pace up with the 4.0 era play the fundamental role in the comprehensive development of young children.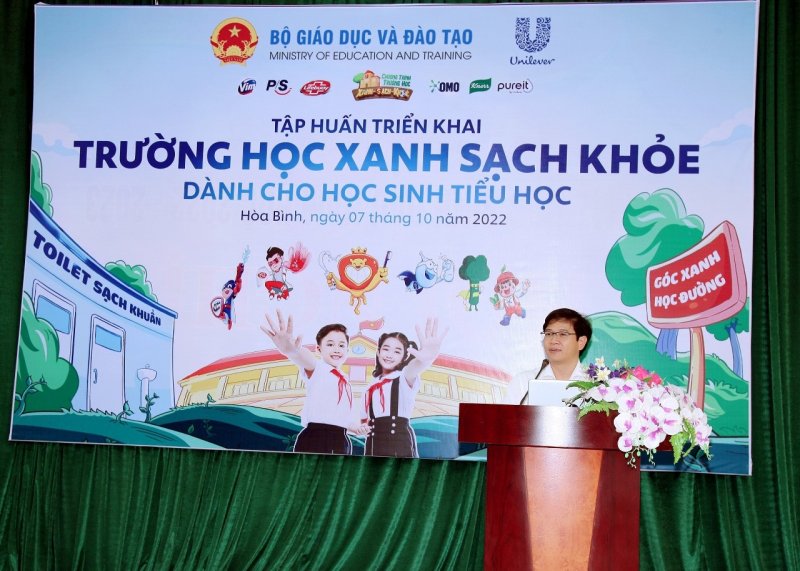 Mr. Thai Van Tai, Director of the Primary Education Department, Ministry of Education & Training
The program "Green – Clean – Healthy Schools" is an important initiative in the long-term strategic cooperation framework between Unilever Vietnam and the Ministry of Education & Training, towards the vision of building and deploying the standard model "Green – Clean – Healthy Schools" to 4.5 million primary school students nationwide in the period 2021-2025.
Specifically in the academic year 2022-2023, the program will be implemented at 1,150 primary schools in more than 10 provinces and cities nationwide, contributing to helping more than 500,000 students learn and play in a standard school environment, and have the opportunity to develop comprehensively, both physically, intellectually and spiritually. The investment for the program in this school year is estimated at more than VND20 billion.
6 brands, 3 enablers, 1 mission
Under the direction of the Ministry of Education & Training, together with Unilever Vietnam's commitment to improving people's health and well-being, six brands – Lifebuoy, P/S, VIM, OMO, PureIt and Knorr will deploy three enablers, together aiming for one mission – for the comprehensive development of Vietnamese children, for greener, cleaner, healthier Vietnamese future generations.
The first activity of the program is school facilities upgradation, including sanitary conditions with clean toilets, hand washing areas, ensuring clean drinking water and green corners within the school areas.
Nextly, the program will carry out communications and education on hygiene, nutrition, health and environmental protection for students, and an emulation movement to build and maintain green – clean – healthy habits at school.
Finally, bearing the desire to help equip students with knowledge through digital teaching and learning, the program also focuses on building and implementing digital curricumlum with interactive content.
Specifically, with the Ministry of Education & Training's direction and the cooperation of 6 brands, Unilever Vietnam has built and deployed the online curriculum system "Green – Clean – Healthy Schools e-Learning", consisting of comprehensive and essential content on hygiene and health habits to help teachers and students have a useful source of teaching and learning materials. The online curriculum is designed in the form of fun and lively animations for children to easily remember and build a healthy demeanor. The curriculum is approved and updated on the electronic lecture database of the Ministry of Education & Training.
In the previous period from 2012-2020, the program "Green – Clean – Healthy Schools" built 445 safe playgrounds, built and upgraded 1,000 clean toilets, provided free dental check-up for 617,000 students at 762 primary schools and free hand soaps with hygiene education to 7.2 million students across the country. This greatly motivates Unilever Vietnam to further promote this program, contributing to bringing the standard model of "Green – Clean – Healthy Schools" to 100 percent of primary schools nationwide.
PV
TAG: