Province promotes intellectual property policies
In the first half of 2022, the Department of Science and Technology advised the provincial people's committee to submit to the provincial people's council a resolution on intellectual property protection registration. The department also proposed that the provincial people's committee issue a series of science and technology application decisions and lists of state-funded provincial-level scientific and technological tasks and projects, and annul the list of standard, metrology and quality administrative procedures under the department's management.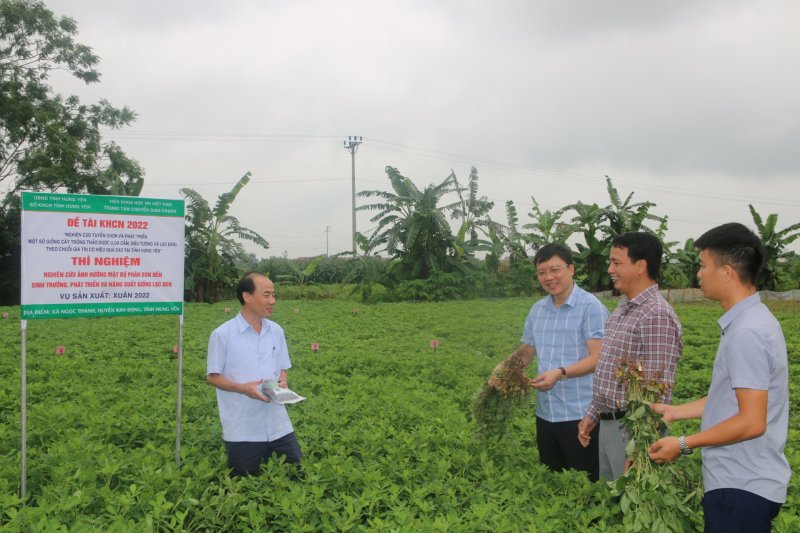 Tran Tung Chuan, Director of the Hung Yen Province Department of Science and Technology (third from right) checks the progress of provincial science and technology tasks
The department assisted the provincial people's committee in efficient implementation of the province's intellectual property development program, as well as annual planning of provincial brands and geographical indications creation, management and development. Hung Yen has assisted intellectual property right registration for 30 products, including one geographical indication for the province's high-quality longan, 12 brand certifications for provincial turmeric, banana, litchi and bee honey, and 17 collective brand certifications for provincial soy sauce, kumquat bonsai, chicken and oranges, among others.
The department will further strengthen its state management of science and technology, including state-funded scientific and technological tasks and rural mountainous development projects. It will hold consultative meetings on 2023 state-funded provincial scientific and technological tasks, advise the provincial people's committee on important decisions, continue administrative reform, regularly review legal documents and administrative procedures, maintain and apply efficiently the TCVN ISO 9001:2015 quality management system, and improve the efficiency of official emails, digital signatures, document management software and public service software in order to ensure high-quality handling of administrative procedures.
Hinh Nguyen
TAG: