Hanoi spurs administrative reform
Digital reform
Public administrative reform in Hanoi has been improved and enhanced with all administrative procedures received and handled following a one-stop mechanism. The electronic one-stop information system, the city's online public service portal, is now synchronized with the national public service portal. The receipt and settlement of administrative procedures are monitored and controlled, thus minimizing frustrations and delays. Nearly all the 1,030,963 service requests were settled in timely fashion in the first seven months of 2022.
All administrative procedures are received and handled according to the one-stop mechanism
According to Vu Thu Ha, Director of the Hanoi Department of Home Affairs, implementing effective e-government is a critical task in the capital city's administrative reform. The city has issued a plan to apply new technology and digital transformation in all its agencies and ensure cyber security by 2025, with an orientation to 2030. Hanoi has also approved the restructuring of 928 administrative procedures to put them online as level 3 and level 4 public services integrated into the national public service portal in 2022.
Le Hong Son, Deputy Chair of the Hanoi People's Committee, listed 17 tasks and solutions to improve the quality of administrative reform, targeting efficiency index improvements and the strict handling of cases of harassment and violations of administrative discipline and culture.
Decentralization breakthrough
The Hanoi Department of Planning and Investment is also moving ahead with a project to promote decentralization of state management and authorization in the locality. The plan focuses on fiscal decentralization, shifting some responsibilities for expenditures to lower levels of government.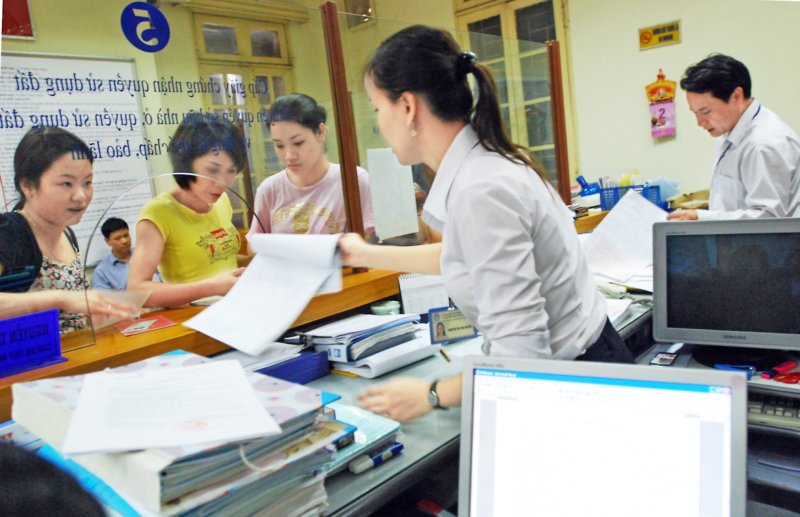 Hanoi has simplified many administrative procedures
Hanoi People's Committee Chair Tran Sy Thanh, said the city was delegating some activity to lower levels in areas such as infrastructure, socioeconomic development, real estate, construction, irrigation and more. The move is expected to increase the productivity of various agencies, thus creating favorable conditions for the city to innovate and modernize a new urban government model.
Nguyen Trong Thua, Deputy Minister of Home Affairs, praised Hanoi for establishing a steering committee to promote decentralization of state management and authorization in the city. He also suggested that the city avoid management overlaps and adopt a favorable attitude toward residents when supplying services. "In particular, Hanoi must be a smart city, at the forefront of digital transformation, because it has strong facilities, capital investment and an innovative mindset," the deputy minister emphasized.
Hanh Nguyen
TAG: