Vietnamese Celebs Volunteer to Join Covid Frontline
Young artists have been packaging and transporting foods at a 'zero dong market' in HCMC's District 3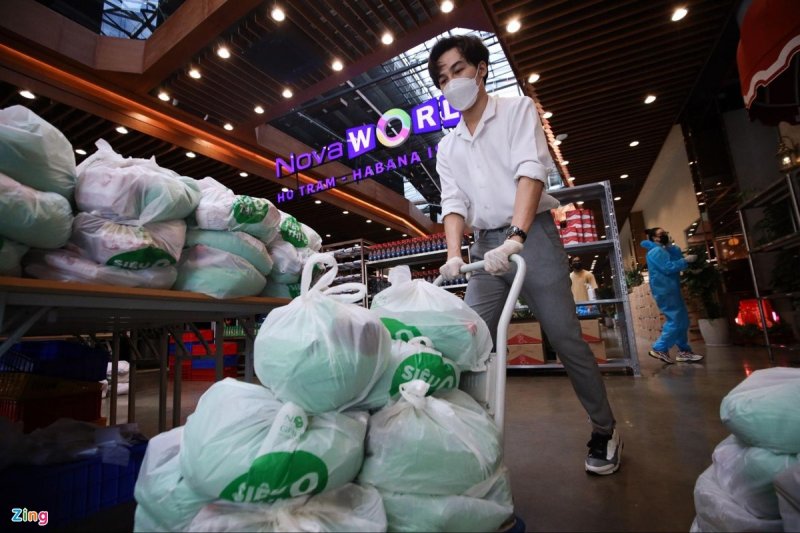 Singer Ali Hoang Duong delivers food packages at the zero dong market. Photo: Zing News
Model Minh Tu, singer Orange, and winner of "Vietnam The Voice 2017" Ali Hoang Duong were seen assisting at NovaGroup's zero dong market on Aug. 28. They are reportedly in charge of packaging and distributing food to frontline workers and needy households in lockdown areas.
According to Zing News, Minh Tu has been accompanying staff at the market since its opening. She wears protective clothes and glasses before wrapping eggs and putting them into packages with other essentials.
"As soon as I came across the organizer's call for volunteers, I signed up," Minh Tu told Zing News.
Minh Tu is fully equipped with protective gear at the market. Photo: Zing News
Photo: Zing News
Meanwhile, Duong said he really wants to do something to help those in the frontline battle.
"I used to sing to cheer the audience up when they need motivation. Now that the Covid-19 pandemic is ravaging and HCMC is under citywide social distancing, I want to do something to help all households have enough food to eat and enough energy to overcome the pandemic," he said.
"I used to help my family pack processed goods. Therefore, mass packaging is not difficult. On the contrary, it was fun," singer Orange said. She will continue to participate in other charitable programs once the zero market ends.
Singer Orange. Photo: Zing News
Duong and Orange hbeen ave distribut food packages to households in Bui Vien street. The artists have reportedly abided by anti-pandemic measures.
"We constantly wash our hands with sanitizer to minimize exposure risks," Duong said.
Photo: Zing News
Photo: Zing News
Ho Chi Minh City, the epicenter of Vietnam's fourth coronavirus wave, has recorded over 199,480 local cases.
The southern metropolis has undergone a series of social distancing orders, with the latest one expected to last until mid-September.
The city has further tightened social distancing restrictions starting Aug. 23 amid a worrying coronavirus situation, asking residents to not go out, even for food, which is delivered to doorsteps by local authorities.
Jasmine Le
TAG: